The Eightfold Path (Hardcover)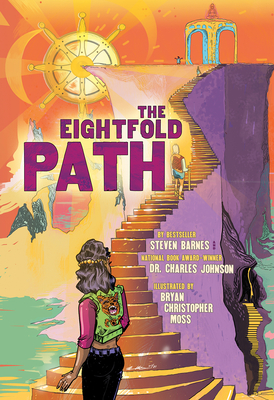 $24.99

Usually Ships in 1-5 Days
Description
---
From award-winning authors Charles Johnson and Steven Barnes comes a graphic novel anthology of interconnected Afrofuturistic parables inspired by the teachings of Buddha

Eight strangers looking for enlightenment from an ancient spiritual teacher are trapped in a cave high in the mountains on their way to his temple. One of his acolytes directs them to each tell a story that the group can learn from as they wait out the horrible snowstorm that rages outside the cave's entrance.

One by one the travelers each share a story that, unbeknownst to them, is actually a morality tale representing one of the aspects of final enlightenment as taught in Buddhism. As the wind howls through the night, they tell symbolic stories of horror, dystopia, high adventure, cyberpunk, and urban fantasy. Each story is a spoke on the symbolic Dharma wheel, and each interlocking tale gets the travelers closer to their true destiny—unveiling the future of the entire human race.

This remarkable collection borrows heavily from the traditions of pop-culture morality anthology series such as The Twilight Zone, The Outer Limits, Night Gallery, Lovecraft Country, and the publications of E.C. Comics. Heavily influenced by the science fiction pulps of the 1950s and 1960s, this brilliant collection remixes classic social narratives such as Plato's Allegory of the Cave, Chaucer's The Canterbury Tales, and The Arabian Nights, through an edgy, contemporary, yet spiritually centered lens. In The Eightfold Path, our destinies lie in heeding the lessons given in every one of these entrancing tales.
About the Author
---
Steven Barnes is the New York Times bestselling, NAACP Image Award–winning author of more than 30 novels. Nominated for Nebula and Hugo awards, writer of the Emmy-winning "A Stitch in Time" episode of The Outer Limits, and winner of the Octavia E. Butler Memorial Award, Barnes is a pioneering Afrofuturist writer, and one of the most honored voices in the field. He lives in Los Angeles with his wife, British Fantasy Award–winning novelist Tananarive Due. Barnes has taught and lectured at UCLA, USC, University of Washington, Mensa, Pasadena JPL, the Smithsonian Museum, the University of North Carolina, and many others. His most recent publication is Twelve Days (Tor, 2017). Dr. Charles Johnson is a professor emeritus at the University of Washington and author of 23 books. He is a novelist, philosopher, essayist, literary scholar, short-story writer, cartoonist, illustrator, and an author of children's literature, screenplays, and teleplays. A MacArthur Fellow, Johnson has received a 2002 American Academy of Arts and Letters Award for Literature, a 1990 National Book Award for his novel Middle Passage, a 1985 Writers Guild Award for his PBS teleplay Booker, the 2016 W.E.B. Du Bois Award at the National Black Writers Conference, and many others. The Charles Johnson Society at the American Literature Association was founded in 2003. In November 2016, Pegasus Theater in Chicago debuted its play adaptation of Middle Passage, titled Rutherford's Travels. Johnson's most recent publications are The Way of the Writer: Reflections on the Art and Craft of Storytelling (Scribner, 2016) and his fourth short story collection, Night Hawks (Scribner, 2018). He lives in Seattle, Washington. Bryan Christopher Moss was born and raised in Columbus, Ohio. At the age of 18, he began working professionally on storyboards and comics while founding and creating a T-shirt company, Strange Things. His commercial clients include Cirque du Soleil, Marvel Comics, Sprite, and a partnership with the Greater Columbus Arts Council. In addition to his freelancing and contractual projects, Moss is an educator. He has collaborated with the likes of Wexner Center for the Arts, Ohio State University, the Columbus Museum of Art, and the Columbus College of Art and Design. He curated, installed, and even showed his own work in his latest exhibition at King Arts Complex, "The Black Panther: Celebrating 50+ Years of Black Superheroes." In 2020, Columbus Alive named Moss as the city's Best Comic Book Artist. He was also recently named an artist-in-residency at the prestigious Aminah Robinson House in Columbus, Ohio.

Praise For…
---
"The Eightfold Path is a wildly original graphic novel great for fans of the medium or for those who love science fiction, fantasy, horror, or the forms of those genres heavy on big ideas. These ideas are not technological or magical at their core, but moral, and it is for that reason The Eightfold Path succeeds as it does." —Warped Factor

"Boldly, intelligently, and fantastically rendered . . . it is thematically perfect—in my humble opinion!—and practically impossible not to read in one sitting. I wish I could experience it again for the first time."—LionsRoar.com

"If anything can be said about Abrams ComicArts books, it's that they are undeniably beautiful. Aside from what lies within their pages, the books themselves are works of art. They are portable museums. The colors, the weight and heft of the paper used, the end paper designs, the cover images chosen, these make the books worth looking at. The stories being told? These make the books worth buying. Their Megascope imprint? These books are worth collecting."—The Nerds of Color