Block Adventures: Incredible Maps and Games to Create and Explore in Minecraft (Paperback)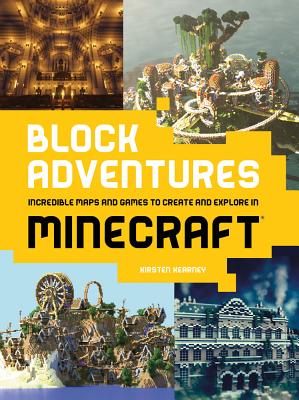 $22.50
Title is Backordered
Description
---
Block Adventures is the ultimate guide for Minecraft fans looking for worlds to explore toward more than 30 captivating, engrossing Adventure Maps as well as guidance on building your own.

Minecraft continues to prove itself as the world's most inventive and flexible gaming platform, offering players endless opportunities for exploring and building virtual worlds. The game's "adventure mode" allows builders to create beautiful and imaginative lands that are self-contained games called Adventure Maps. Minecrafters can spend many frustrating hours searching online for the best adventure maps. There are thousands and Block Adventures makes the search easy, and for aspiring world builders the book also offers basic concepts and tutorials with simple guides, and suggestions of projects to get involved in.

Some of the adventure maps included in the book are:

Unfolding Stories, like MafiaCraft, Doctor, and Sunaris
Parkour Activities, like Venice, Zero Minr, and Mirror's Edge
Survival Games, like La Brocanterie, Trouble in Mineville, and Arctic Abyss
Arena Battles, like Cowboys and Indians, Abandoned City, and Sky Wars
Puzzle Solving, like Lunapark Adventure, Surgeon Simulator, and Ant Farm

Like the first two books in the bestselling Block series, Block City and Block Wonders, Block Adventures offers inspiring and useful information for Minecrafters at all levels.
About the Author
---
Kirsten Kearney is the author of Block City and Block Wonders and a games journalist who has written widely on games and gaming over the past 10 years. She has served as a section editor for Guinness World Records: Gamer's Edition and owns the games media website ready-up.net. An expert on Minecraft, she also runs a Minecraft server for children.