Dinosaur Empire! (Earth Before Us #1): Journey through the Mesozoic Era (Hardcover)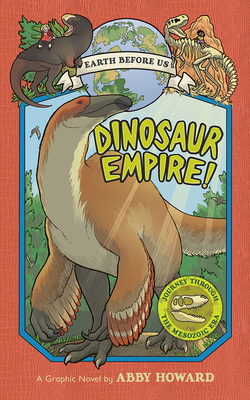 $15.99
Title is Backordered
Other Books in Series
This is book number 1 in the Earth Before Us series.
Description
---
Travel back in time to the age of the dinosaurs in Abby Howard's Dinosaur Empire!: Journey Through the Mesozoic Era, first in the hit nonfiction graphic novel series about prehistoric Earth!

Ronnie is just a normal fifth grader trying to pass her science class's impossible quiz on the history of dinosaurs . . . until she runs into her neighbor—Ms. Lernin, a retired paleontologist. Ronnie and Ms. Lernin travel back through time to experience the age of the dinosaurs firsthand.

They visit three important time periods of the Mesozoic Era: the Triassic, the Jurassic, and the Cretaceous. Along the way, Ronnie finds herself face-to-face with real-life dinosaurs and reptiles, like Stegosauruses, Velociraptors, and Thalattosaurs. She learns the differences between herbivores, carnivores, and omnivores, as well as between dinosaurs, insects, and reptiles.

This hilarious and fact-filled graphic novel brings the age of the dinosaurs to life and shows the important effects this era had on our world today.

The Earth Before Us series:
Dinosaur Empire!: Journey Through the Mesozoic Era (#1)
Ocean Renegades!: Journey Through the Paleozoic Era (#2)
Mammal Takeover!: Journey Through the Cenozoic Era (#3)

About the Author
---
Abby Howard is the creator of the comic website Junior Scientist Power Hour and the author of the Earth Before Us series. Before becoming a full-time artist, Howard studied evolutionary biology at McGill University, where her deep interest in dinosaurs was born.
Praise For…
---
**STARRED REVIEW**
"An information-dense but fast-moving exploration of how scientists have come to understand life in that period (dinosaurs, as well as mammals, insects, and sea life), clearly and amusingly explained through the duo's dialogue."
— Publishers Weekly
"Howard details characteristics of dinosaurs and other prehistoric creatures, covers similarities and differences among different species, and offers information on evolution, convergent evolution, and mutations...a great addition to graphic novel or dinosaur collections."
— School Library Journal
"It's an effective way of putting the vast history of the world before humans in perspective; dinosaur nuts (and there are many) will eat it up."
— Booklist
"The graphic panels teem with (labeled) prehistoric life including, along with dozens of dinos, many early mammals and other contemporaries. Howard depicts nearly all of this fauna with snub noses and such friendly expressions..."
— Kirkus