Return (Baxter Family Drama--Redemption #3) (Paperback)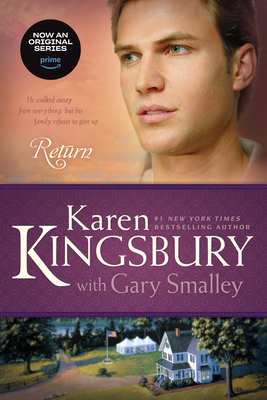 $15.99
Title is Backordered
Other Books in Series
This is book number 3 in the Baxter Family Drama--Redemption series.
Description
---
Book 3 in the bestselling 5-book Christian fiction series that has sold nearly 2 million copies

A story of tenacious love and longing for a lost son, from Karen Kingsbury, the #1 New York Times bestselling author of "heart-tugging and emotional" (Romantic Times) life-changing fiction, co-authored with Gary Smalley.

Return is the third book in the original Baxter Family Series, which has gone on to captivate tens of millions of readers and is currently being made into an original television series, produced by Roma Downey and Will Packer.

A Shattered Relationship
Luke, the Baxter family's golden boy and only son, has walked away from everything that mattered most to him: his faith, his family, and Reagan, his only love. Devastated by the events of September 11, 2001, Luke decides that life is random, faith a fraud, and God a fantasy.

A Secret
A baby is about to be born, but with Reagan a thousand miles away in New York City, Luke has no idea he's the father. Now, though, someone in his family learns the truth. But she has a secret of her own, one that will change the Baxters' lives forever.

A Revelation
What will it take for Luke to return to the family who loves and aches for him? And what extremes will a certain young firefighter take to help bring the Baxters together again, and in the process, find his place in the family?

Winner of Christian Retailing's Retailer's Choice Award for Best Series

This touching novel reunites readers with the Baxter family and focuses on the only Baxter son, Luke. He is determined to leave his faith and his past behind and embrace a new, free-thinking future. But what he doesn't realize is that his past holds a secret even he doesn't know. When Luke finds out, his comfortable new life is turned upside-down, and he must turn back to his roots.

Fans will enjoy a personal note from Karen Kingsbury and Gary Smalley as well as discussion questions for book group use.