Batman: The Dark Knight Returns Book & Mask Set (Mixed media product)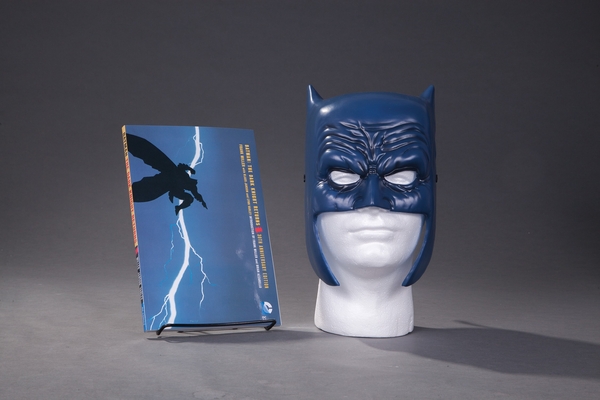 $39.99

Usually Ships in 1-5 Days
Description
---
One of the greatest graphic novels of all-time, THE DARK KNIGHT RETURNS, is now available in this beautifully packaged set complete with a replica Batman mask, done in the style of Frank Miller!

Together with inker Klaus Janson and colorist Lynn Varley, writer/artist Frank Miller completely reinvents the legend of Batman in his saga of a near-future Gotham City gone to rot, ten years after the Dark Knight's retirement. This masterpiece of modern comics storytelling, BATMAN: THE DARK KNIGHT RETURNS, brings to vivid life a dark world and an even darker man. 

The Dark Knight retuns in a blaze of fury, taking on a whole new generation of criminals and matching their level of violence. He is soon joined by a new Robin--a girl named Carrie Kelley, who proves to be just as invaluable as her predecessors.

But can Batman and Robin deal with the threat posed by their deadliest enemies, after years of incarceration have made them into perfect psychopaths? And more important, can anyone survive the coming fallout from an undeclared war between the superpowers -- or the clash of what were once the world's greatest heroes?

Celebrate thirty years of one of the most influential stories ever told in the comics medium with the undisputed classic BATMAN: THE DARK KNIGHT RETURNS 30TH ANNIVERSARY EDITION, now packaged with a replica mask done in the style of the legendary Frank Miller.
About the Author
---
Frank Miller began his career in comics in the late 1970s and rose to fame while first drawing, and then writing, Daredevil for Marvel Comics. He was also the creative force behind BATMAN: THE DARK KNIGHT RETURNS, BATMAN: YEAR ONE and BATMAN: THE DARK KNIGHT STRIKES AGAIN. His many works have not only redefined classic characters, but also, on a few occasions, revitalized the comics industry. His multi-award-winning graphic novel 300 was brought to full-blooded life in the 2007 motion picture of the same name, and in 2008 he directed the feature film Will Eisner's The Spirit. His creator-owned crime saga Sin City first hit the page in 1991, and then the silver screen in 2005, with Miller on board as co-director with Robert Rodriguez. The two returned to direct the sequel Sin City: A Dame to Kill For, released in 2014 and featuring two new stories by Miller.
Praise For…
---
"This is a clever and sophisticated Batman--with a dark, edgy, and thought-provoking narrative ably abetted by Capullo's pulpish, detailed art. Readers will find it hard to put down."--Publishers Weekly, starred

"A+. The hero's got personality (and is unafraid to release a quip as sharp as a Batarang), a horde of supervillains, gumption to spare and a whole host of high-tech gadgetry to suitably impress longtime fans and those new to the Dark Knight."--USA Today

"[Writer Scott Snyder] pulls from the oldest aspects of the Batman myth, combines it with sinister-comic elements from the series' best period, and gives the whole thing terrific forward-spin by setting up an honest-to-gosh mystery for Batman to solve."--Entertainment Weekly