Mesozoic Art: Dinosaurs and Other Ancient Animals in Art (Hardcover)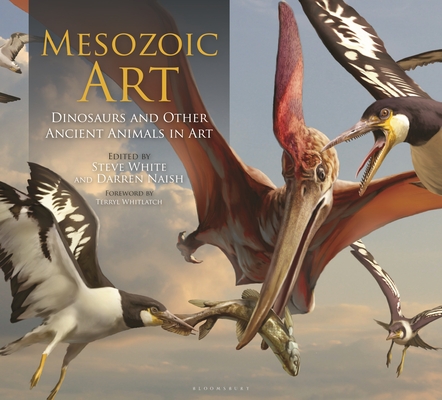 $40.00

Usually Ships in 1-5 Days
Description
---
Showcases the work of twenty leading paleoartists who expertly bring these extinct animals to life in exquisite detail.

Dinosaurs are endlessly fascinating to people of every age, from the youngest child who enjoys learning the tongue-twisting names to adults who grew up with Jurassic Park and Walking with Dinosaurs. As our knowledge of the prehistoric world continues to evolve and grow, so has the discipline of bringing these ancient worlds to life artistically. Paleoart puts flesh on the bones of long-extinct organisms, and illustrates the world they lived in.

Mesozoic Art presents twenty of the best artists working in this field, representing a broad spectrum of disciplines, from traditional painting to cutting-edge digital technology. Some provide the artwork for new scientific papers that demand high-end paleoart as part of their presentation to the world at large; they also work for the likes of National Geographic and provide art to museums around the world to illustrate their displays. Other artists are the new rising stars of paleoart in an ever-growing, ever-diversifying field.

Arranged by portfolio, this book brings this dramatic art to a wide, contemporary audience. The art is accompanied by text on the animals and their lives, written by palaeontologist Darren Naish. Paleoart is dynamic, fluid and colourful, as were the beasts it portrays, which are displayed in this magnificent book.
About the Author
---
Steve White has been an editor, colourist, inker and artist for almost four decades, beginning his career at Marvel UK on the likes of Care Bears, Transformers and Thundercats in the late eighties before writing for 2000AD, editing for Titan Comics, and being an illustrator on numerous books and magazines. Steve has been contributing editor on several art books for Titan including Dinosaur Art and The Paleoart of Julius Costonyi.

Darren Naish is a renowned vertebrate palaeontologist, author and blogger. His best-known work in academia includes reevaluations of British dinosaurs including the early tyrannosaur, Eotyrannus, but he is best known for his blog, Tetrapod Zoology (or TetZoo), a hugely influential resource with a large and dedicated readership that has spawned its own conference. Darren is author of the acclaimed Dinosaurs: How They Lived and Evolved and co-authored All Yesterdays: Unique and Speculative Views of Dinosaurs and other Prehistoric Animals.
Praise For…
---
"Palaeoart has truly crossed the bridge into the realm of fine wildlife art in both the quality and creative content of the work compiled in this tome." —Julius T. Csotonyi, palaeoartist and mural illustrator for the Smithsonian Museum of Natural History and LA Museum of Natural History, and author of The Paleoart of Julius Csotonyi

"A must-have for scientists, scholars and young dino artists!" —Creator of Age of Reptiles, concept artist for Jurassic Park III, and character designer for Disney's Dinosaur

"This is an ambitious collection of some of the most breath-catching depictions not only of our world in the past, but our world at any time. Sometimes weird, but often startlingly natural, Mesozoic Art helps us see life in the past not as science fiction, but living, breathing fact." —Dr Elsa Panciroli, palaeontologist, author of Beasts Before Us and The Earth: A Biography of Life

"This book offers new, fresh, naturalistic and exciting depictions of our favourite creatures. Prehistoric Animals are not monsters and these young artists give them the respect they deserve. No doubt Mesozoic Art will inspire a whole new generation of Palaeoartists!" —David Krentz, palaeoartist, designer, concept artist, storyboard artist on Prehistoric Planet, Emmy award-winning concept artist on Primal

"I was entranced by the work here…Darren and Steve's captions also provide an effective, insightful commentary…this is obviously a must-have book for anyone interested in palaeoart…More than that, this feels like a definitive summation of where we're up to in the world of palaeoart, committed to print to be perused for decades to come." —Love in the Time of Chasmosaurs

"The gorgeous paintings are accompanied by thought-provoking notes designed to attract artists and scientists alike…Arts and prehistoric science library collections alike must place Mesozoic Art on their lists of important, key acquisitions." —Donovan's Recommended Reading

"Mesozoic Art pulls together a powerful subset of palaeoartists…The print quality equals that of the best fine art books. Paleontology enthusiasts, and perhaps even Audubon aficionados, will not be disappointed." - New York Journal of Books