From All of Us to All of You The Disney Christmas Card (Disney Editions Deluxe) (Hardcover)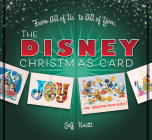 Description
---
This deluxe book features a center-opening cover and twelve removable holiday cards--each exclusively designed with rare Disney art!

"One of the nicest things about the holiday season is exchanging greetings with our many friends, for these messages from all over the world represent the true spirit of Christmas in many different ways."
--Walt Disney
Imagine how special that greeting might be if sent by none other than Walt Disney! Early in the history of the Walt Disney Studios, annual Christmas themed greeting cards were created, their designs and illustrations by such legendary Disney Studio artists as Tom Wood, Hank Porter, Bob Moore, Mary Blair, John Hench, and Paul Wenzel.
Over eight decades, the artists also fashioned annual seasonal art for merchandise and advertisements, and in support of motion pictures, television programs, and the Disney Parks and Resorts.
From All of Us to All of You: The Disney Christmas Card
features beloved characters and moments from these rarely seen and seldom-published examples of vintage Disney imagery.
Gift-wrapped and sparkling in the spirit of the season, this one-of-a-kind collection of familiar, festive, fun, and feeling holiday art shines a light on a remarkable body of work and the people who created it, all while celebrating that most wonderful time of the year.Searching for that perfect gift for the Disney movie fan in your life? Explore more behind-the-scenes stories from Disney Editions:
The Art of Mulan: A Disney Editions Classic

Walt Disney's Ultimate Inventor: The Genius of Ub Iwerks

One Day at Disney: Meet the People Who Make the Magic Across the Globe

The Art of Disney Costuming: Heroes, Villains, and Spaces Between

The Walt Disney Studios: A Lot to Remember

The Art and Making of The Lion King

The Art and Making of Dumbo

Practically Poppins in Every Way: A Magical Carpetbag of Countless Wonders

Yesterday's Tomorrow: Disney's Magical Mid-Century

About the Author
---
Jeff Kurtti is a leading authority on The Walt Disney Company, its founder, and its history. He is the author of more than twenty books, a writer-director of award-winning documentary content, and a respected public speaker. A Seattle, Washington native, Kurtti worked as a production coordinator on the 1984 Los Angeles Olympic Arts Festival, followed by two years as the assistant to the president of the California Institute of the Arts. For several years, he worked for Walt Disney Imagineering, the theme park design division of The Walt Disney Company, and then for the Corporate Special Projects department of Disney. Since 1995, Kurtti has enjoyed a career as an author, writer, and consultant in the motion picture, theatre, and theme park entertainment industries. He was creative director, content consultant, and media producer for The Walt Disney Family Museum in San Francisco and a producer of The Boys: The Sherman Brothers Story, a critically acclaimed documentary about the famed songwriters.





Praise For…
---
PRAISE FOR PRACTICALLY POPPINS IN EVERY WAY

"Practically Poppins goes above and beyond the mandate of a movie tie-in to become a valuable book for any Mary Poppins fan."—<strong>Leonard Maltin</strong>, film critic and historian

PRAISE FOR PRACTICALLY POPPINS IN EVERY WAY

"This coffee table–worthy book by Jeff Kurtti is much more than a visually appealing celebration of the franchise."—<strong>Broadway Direct</strong>

PRAISE FOR THE ART OF DISNEY COSTUMING

"Explore the characters, stories, history, and currency of Disney in a whole new way. . . ."—<strong>Nerds and Beyond</strong>

PRAISE FOR THE ART OF DISNEY COSTUMING

One of "20 Books Every True Disney Fan Should Have in Their Collection"—<strong>POPSUGAR</strong>

PRAISE FOR THE ART OF MULAN

". . . chronicles the production team's research trip to China and the creative development of the pic . . ."—<strong>Variety</strong>

PRAISE FOR TRAVELS WITH WALT DISNEY

". . . no small feat to do what Jeff Kurtti has done . . ."—<strong>Jason Cochran</strong>, Editor-in-Chief, <strong>Frommers.com</strong>

PRAISE FOR TRAVELS WITH WALT DISNEY

"Highly recommended!"—<strong>John Canemaker</strong>, NYU professor and head of Animation Studies

PRAISE FOR TRAVELS WITH WALT DISNEY

One of "20 Books Every True Disney Fan Should Have in Their Collection"—<strong>POPSUGAR</strong>

PRAISE FOR FROM ALL OF US TO ALL OF YOU: THE DISNEY CHRISTMAS CARD"The Disney Christmas Card is a perfect gift for any Disney fan (even if it's you, yourself). Author Kurtti, who knows his Disney history as well as anyone on earth, chronicles the history of Walt's studio cards over the decades. There are entertaining anecdotes and sidebars to match the engaging and ingenious artwork the Disney staff created year after year. You could scarcely do better than go behind the scenes to see how Walt and Company expressed their holiday greetings."—<strong>Leonard Maltin</strong>, film critic and historian

PRAISE FOR FROM ALL OF US TO ALL OF YOU: THE DISNEY CHRISTMAS CARD"There are ordinary Christmas cards, and then there are Disney Christmas cards."—<strong>Reader's Digest</strong>

PRAISE FOR FROM ALL OF US TO ALL OF YOU: THE DISNEY CHRISTMAS CARD"This is a book I have wanted to own for about the last 20 years! It's actually a book that I had once entertained hopes of putting together myself; and it's only the fact that it has finally reached us via the skilled editorship of my friend and fellow Disneyphile, Jeff Kurtti, that I am able to suppress my envy! . . . This project could so easily have been simply produced as a book of pictures (and, indeed, some years ago, a book of Disney postcards was published based on many of these very images), but what Kurtti has done that makes this volume both collectable and informative is to place each card within the context of the Studio's annual development. . . . The author has been ably aided by the book's talented designer, Paul Wolski, whose 'wide-screen' format (encased in a holly-green gate-fold binding) allows the cards to be shown to their very best advantage—especially since a number of the originals opened out horizontally and/or vertically. Fronts, backs and interiors are all simultaneously visible and, printed with shadows, appear to be lying on the pages of the open book—as if ready be picked and arranged on your Christmas mantelpiece!"—<strong>Brian Sibley</strong>, writer, broadcaster, and Disney scholar

PRAISE FOR FROM ALL OF US TO ALL OF YOU: THE DISNEY CHRISTMAS CARD#5 of "19 great coffee table books for Disney fans"—<strong><em>Business Insider</em></strong>