The Panic Years: Dates, Doubts, and the Mother of All Decisions (Paperback)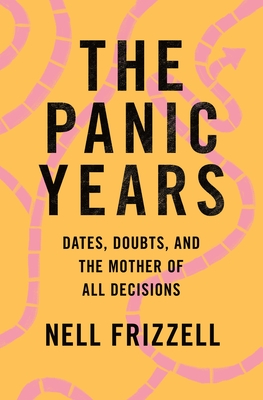 $18.99

Usually Ships in 1-5 Days
Description
---
Renowned journalist Nell Frizzell explores what happens when a woman begins to ask herself: should I have a baby?

We have descriptors for many periods of life—adolescence, menopause, mid-life crisis, quarter-life crisis—but there is a period of profound change that many women face, often in their late twenties to early forties, that does not yet have a name.

Nell Frizzell is calling this period of flux "the panic years," and it is often characterized by a preoccupation with one major question: should I have a baby? And from there—do I want a baby? With whom should I have a baby? How will I know when I'm ready?

Decisions made during this period suddenly take on more weight, as questions of love, career, friendship, fertility, and family clash together while peers begin the process of coupling and breeding. But this very important process is rarely written or talked about beyond the clichés of the "ticking clock."

Enter Frizzell, our comforting guide, who uses personal stories from her own experiences in the panic years to illuminate the larger social and cultural trends, and gives voice to the uncertainty, confusion, and urgency that tends to characterize this time of life.

Frizzell reminds us that we are not alone in this, and encourages us to share our experiences and those of the women around us—as she does with honesty and vulnerability in these pages. Raw and hilarious, The Panic Years is an arm around the shoulder for every woman trying to navigate life's big decisions against the backdrop of the mother of all questions.
About the Author
---
Nell Frizzell is a freelance journalist who writes a column for Vogue and also writes for the Guardian, Elle, Vice, Buzzfeed, the Independent, the Observer, and the Telegraph. She is best known for features and columns on gender, pregnancy, and parenting, and she has been featured several times on various BBC programs. In addition to journalism, Nell has written and performed comedy and works as a lifeguard. She lives in London with her partner and child.
Praise For…
---
"Searingly honest, witty, and moving. For anyone who knows what it's like to simultaneously want to weep with joy and throw your child out of the window, Frizzell is a very welcome voice in the conversation on motherhood." —Vogue UK

"Nell Frizzell's thoughts on womanhood and motherhood are as informative as they are poetic. Writing that challenges and enlightens you just as much as it entertains and stimulates you is rare; this book confidently does both on an important and complicated topic for modern women." —Dolly Alderton, author of Everything I Know About Love

"There is so much about womanhood that feels indefinable. And yet with her definitions of the flux, and the panic years, Nell manages to define the indefinable—as well as unite childfree women and mothers, where the two are so often pitted against one another. Lyrical, moving, and thorough, this is a memoir, a feminist text, and a piece of social commentary. Every millennial woman should have it on her bookshelf." —Pandora Sykes, writer and cohost of The High Low

"Nell Frizzell is a master. In The Panic Years, she picks you up and drops you deep inside herself and makes you see what she sees and feel what she feels in a manner that is both jarring and beautiful . . . This book is a visceral exploration of one young woman's life that has immediately applicable lessons for us all. Vital reading. Lest my trumpeting make you worry it's only 'important,' The Panic Years is also fun, funny, and warm. I love it dearly!" —Rob Delaney, co-writer and co-star of Catastrophe


"Wonderful . . . touching, helpful, and enlightening." —Sara Pascoe, author of Animal

"A compassionate, funny, and beautifully written exploration of contemporary womanhood—the book may have 'panic' in the title, but Nell's words calmed and soothed me deeply." —Daisy Buchanan, author of Insatiable

"Heartening, eye-opening, hilarious. I'm glad Nell has given this weird time a term we can all use." —Emma Gannon, author of Olive

"Smart and perceptive . . . Written with real humor and consideration for the point at which very woman is in their life, this is a must-read." —Stylist UK

"Frizzell's compassionate, compulsive prose fizzes with imaginative humor and metaphor. A memoir that's funny and heartfelt, personal and political." —Evening Standard

"One of the most gripping, beautiful, and euphoric glimpses of motherhood that I have ever read. Frizzell is an engaging and endearing narrator of this poignant memoir." —Telegraph

"A wonderful, candid memoir about the personal and political implications of motherhood, full of humour and fizzing prose. I loved it." —Luiza Sauma, author of Flesh and Bone and Everything You Ever Wanted

"Lively, informative . . . Nell uses her own experience generously and the effect is inclusive, reassuring and funny. She articulates feelings I've had but never quite explored—it's excellent." —Amy Liptrot, author of The Outrun

"The Panic Years made me laugh and it made me cry. There's a rare tenderness to this book that comes from not having felt seen before. It's for our generation, and Nell gets it. She understands and respects us." —Rhiannon Cosslett, author of The Tyranny of Lost Things

"For someone older, in a different set of panic years altogether, part of the pleasure of this book lies in reminiscence, reflecting and reframing. But it's also galvanising, engaging and enraging. The personal is political, philosophical, emotional, and very funny. I resisted the urge to highlight everything that made me laugh, or think, or fired me up, because the whole thing would have been one big neon block." —Jenny Landreth, author of Swell