Axiom's End: A Novel (Noumena #1) (Hardcover)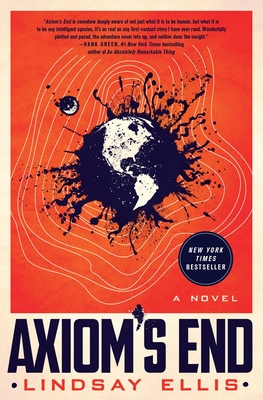 $27.99
Title is Backordered
Other Books in Series
This is book number 1 in the Noumena series.
Description
---
THE INSTANT NEW YORK TIMES BESTSELLER

The alternate history first contact adventure Axiom's End is an extraordinary debut from Hugo finalist and video essayist Lindsay Ellis.

Truth is a human right.

It's fall 2007. A well-timed leak has revealed that the US government might have engaged in first contact. Cora Sabino is doing everything she can to avoid the whole mess, since the force driving the controversy is her whistleblower father. Even though Cora hasn't spoken to him in years, his celebrity has caught the attention of the press, the Internet, the paparazzi, and the government—and with him in hiding, that attention is on her. She neither knows nor cares whether her father's leaks are a hoax, and wants nothing to do with him—until she learns just how deeply entrenched her family is in the cover-up, and that an extraterrestrial presence has been on Earth for decades.

Realizing the extent to which both she and the public have been lied to, she sets out to gather as much information as she can, and finds that the best way for her to uncover the truth is not as a whistleblower, but as an intermediary. The alien presence has been completely uncommunicative until she convinces one of them that she can act as their interpreter, becoming the first and only human vessel of communication. Their otherworldly connection will change everything she thought she knew about being human—and could unleash a force more sinister than she ever imagined.
About the Author
---
LINDSAY ELLIS is a New York Times bestselling author, Hugo Award finalist, and video essayist who creates online content about media, narrative, literature, and film theory. After earning her bachelor's in cinema studies from NYU's Tisch School of the Arts, she earned her MFA in film and television production, with a focus in documentary and screenwriting, from USC's School of Cinematic Arts. She lives in Long Beach, California. Her debut novel, Axiom's End, was an instant New York Times bestseller.
Praise For…
---
"Axiom's End is somehow deeply aware of not just what it is to be human, but what it is to be any intelligent species. It's as real as any first-contact story I have ever read. Wonderfully plotted and paced, the adventure never lets up, and neither does the insight." —Hank Green, #1 New York Times bestselling author of An Absolutely Remarkable Thing

"So much fun. Lindsay Ellis's experience as one of our sharpest cultural observers gives Axiom's End an edge of realism that makes it both cutting and compelling. Close encounters have a whole new look."
—John Scalzi, New York Times bestselling author and Hugo Award winner

"Axiom's End is eerily plausible and wildly entertaining. An alternate history that fully delivers on its premise." —Caitlin Doughty, New York Times Bestselling Author and Mortician

"Lindsay Ellis's storytelling is what good science fiction should be: smart but heartfelt, full of profound ideas delivered with a sense of humanity. Axiom's End is engaging precisely because it is about something all of us have experienced: That moment when you grow up enough to realize that the universe is more wondrous—and dangerous than you could ever have imagined."
—David Wong, New York Times bestselling author

"Axiom's End: if you enjoy first contact tales, alien cultures, inexplicable found families, beautiful chaos and elegantly constructed stories." —Seanan McGuire, New York Times bestselling author and Hugo Award Winner

"Suspenseful and inventive, but also funny and full of action, Axiom's End remixes the Hollywood alien-invasion playbook." —Patrick Rapa, Philadelphia Inquirer

"Communication and trust are matters of life and death in Ellis's thoughtful, fast-paced debut...the powerful connection that grows between Cora and Ampersand as they teach each other about their respective cultures is masterfully done. Lovers of character-focused sci-fi will find plenty to enjoy in this gripping alternate history." —Publishers Weekly

"At its core, Axiom's End is warm-hearted...For all of its drama and philosophical conundrums, Ellis's book is ultimately about the power of empathy and kindness in a universe that never has enough of either." —Shelf Awareness (starred review)

"A moving first contact thriller...touching on issues of prejudice and xenophobia along the way, Axiom's End is the engaging first volume of a projected series." —The Guardian (UK)

"Axiom's End is the most relatable sci-fi novel in years…if you want to read a serious sci-fi novel that feels like it was written by a fan who understands the pop culture side of fandom, you're in good hands…It's a heartfelt story of alien first contact, but, luckily, unlike so many "big idea" sci-fi books, it's utterly unpretentious…You've read other books about similar things, but you've never read them from this perspective." —Syfy Wire

"Axiom's End has gripping action scenes, but the bulk is an examination of language and what it means to communicate at all. Ellis' endless literary knowledge shines through." —San Francisco Chronicle