Torpedoed: The True Story of the World War II Sinking of "The Children's Ship" (CD-Audio)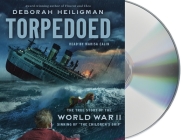 $34.99
Title is Backordered
Description
---
From award-winning author Deborah Heiligman comes Torpedoed, a true account of the attack and sinking of the passenger ship SS City of Benares, which was evacuating children from England during WWII.

Amid the constant rain of German bombs and the escalating violence of World War II, British parents by the thousands chose to send their children out of the country: the wealthy, independently; the poor, through a government relocation program called CORB. In September 1940, passenger liner SS City of Benares set out in a convoy of nineteen ships sailing for Canada. On board were ninety CORB children, chaperones, and crew, along with paying passengers.

When the war ships escorting the Benares to safe waters peeled off and the way forward seemed certain, a German submarine attacked and torpedoed the Benares. What followed is an amazing example of all that people are capable of—the worst, and the best.
About the Author
---
Deborah Heiligman has written many books for children, including National Book Award Finalist Charles and Emma: The Darwins' Leap of Faith; Boston Globe-Horn Book Award Winner Vincent and Theo: The Van Gogh Brothers; and The Boy Who Loved Math. She lives with her family in New York City.

Marisa Calin is an actress, narrator, and novelist born in England and educated in New York at the American Academy of the Dramatic Arts. An artist with a flair for everything literary, she has written a young adult novel, You & Me, which received a Kirkus Starred Review, and has narrated the audio books Ruby Red and Sapphire Blue by Kerstin Gier.