Daughter of a Daughter of a Queen: A Novel (Paperback)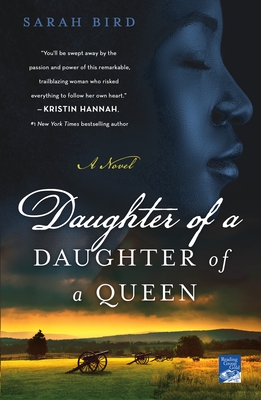 Description
---
"You'll be swept away by the passion and power of this remarkable, trailblazing woman who risked everything to follow her own heart." – Kristin Hannah, #1 New York Times bestselling author

"An epic page-turner." – Christina Baker Kline

Named Best Fiction Writer in the Austin Chronicle's "Austin's Best 2018"
Named one of Lone Star Literary Life's "Top 20 Texas Books of 2018"

The compelling, hidden story of Cathy Williams, a former slave and the only woman to ever serve with the legendary Buffalo Soldiers.

"Here's the first thing you need to know about Miss Cathy Williams: I am the daughter of a daughter of a queen and my mama never let me forget it."

Though born into bondage on a "miserable tobacco farm" in Little Dixie, Missouri, Cathy Williams was never allowed to consider herself a slave. According to her mother, she was a captive, destined by her noble warrior blood to escape the enemy. Her chance at freedom presents itself with the arrival of Union general Phillip Henry "Smash 'em Up" Sheridan, the outcast of West Point who takes the rawboned, prideful young woman into service. At war's end, having tasted freedom, Cathy refuses to return to servitude and makes the monumental decision to disguise herself as a man and join the Army's legendary Buffalo Soldiers.

Alone now in the ultimate man's world, Cathy must fight not only for her survival and freedom, but she also vows to never give up on finding her mother, her little sister, and the love of the only man strong enough to win her heart. Inspired by the stunning, true story of Private Williams, this American heroine comes to vivid life in a sweeping and magnificent tale about one woman's fight for freedom, respect and independence.
About the Author
---
Sarah Bird's novel, Above the East China Sea, was long-listed for the Dublin International Literary Award. A Dobie-Paisano Fellowship helped in researching Daughter of a Daughter of a Queen. Raised in an Air Force family on bases around the world, Sarah is the child of two warriors, a WWII Army nurse and an Air Corps bombardier, who met at a barn dance in North Africa. She lives in Austin, Texas.