The Most Beautiful Woman in Florence: A Story of Botticelli (Paperback)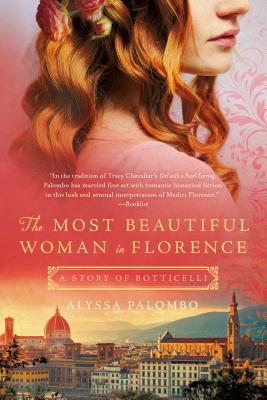 $23.99

Usually Ships in 1-5 Days
Description
---
"In the tradition of Tracy Chevalier's Girl with a Pearl Earring, Palombo has married fine art with romantic historical fiction in this lush and sensual interpretation of Medici Florence, artist Sandro Botticelli, and the muse that inspired them all." - Booklist

A girl as beautiful as Simonetta Cattaneo never wants for marriage proposals in 15th Century Italy, but she jumps at the chance to marry Marco Vespucci. Marco is young, handsome and well-educated. Not to mention he is one of the powerful Medici family's favored circle.

Even before her marriage with Marco is set, Simonetta is swept up into Lorenzo and Giuliano de' Medici's glittering circle of politicians, poets, artists, and philosophers. The men of Florence—most notably the rakish Giuliano de' Medici—become enthralled with her beauty. That she is educated and an ardent reader of poetry makes her more desirable and fashionable still. But it is her acquaintance with a young painter, Sandro Botticelli, which strikes her heart most. Botticelli immediately invites Simonetta, newly proclaimed the most beautiful woman in Florence, to pose for him. As Simonetta learns to navigate her marriage, her place in Florentine society, and the politics of beauty and desire, she and Botticelli develop a passionate intimacy, one that leads to her immortalization in his masterpiece, The Birth of Venus.

Alyssa Palombo's The Most Beautiful Woman in Florence vividly captures the dangerous allure of the artist and muse bond with candor and unforgettable passion.
About the Author
---
ALYSSA PALOMBO is the author of The Violinist of Venice, The Most Beautiful Woman in Florence, and The Spellbook of Katrina Van Tassel. She is a recent graduate of Canisius College with degrees in English and creative writing, respectively. A passionate music lover, she is a classically trained musician as well as a big fan of heavy metal. When not writing, she can be found reading, hanging out with her friends, traveling, or planning for next Halloween. She lives in Buffalo, New York, where she is always at work on a new novel.
Praise For…
---
"Palombo gives life to the woman immortalized in Botticelli's The Birth of Venus in a novel that perfectly merges art, history and romance. The Florence of the de Medicis, filled with the glorious colors of the Renaissance, shimmers as the backdrop of this fascinating glimpse into the creation of a masterpiece. This captivating, beautifully written novel may be more fiction than fact, but readers will be entranced and will feel they are an integral part of the unfolding story. Palombo joins the ranks of Tracey Chevalier, Rosalind Laker and those who perfectly merge history and reality." - Romantic Times

"Alyssa Palombo follows up her outstanding debut, The Violinist of Venice, with this stunning novel... a reflection on beauty and how it can be a curse." - Historical Novel Society, Editor's Choice pick

"In the tradition of Tracy Chevalier's Girl with a Pearl Earring, Palombo has married fine art with romantic historical fiction in this lush and sensual interpretation of Medici Florence, artist Sandro Botticelli, and the muse that inspired them all." - Booklist

"Strikingly feminist…a compelling narrative that is difficult to putdown." – Publishers Weekly

"Inspired by Botticelli's iconic painting, The Birth of Venus, Palombo's tale will sweep you away to the sights, sounds and romance of the Medici's in Florence." - BookTrib

"Beautifully written and poetically told, The Most Beautiful Woman in Florence will leave you in tears and rushing to get your hands on anything else written by Alyssa Palombo." - Feathered Quill