Katharine Parr, The Sixth Wife: A Novel (Six Tudor Queens) (Paperback)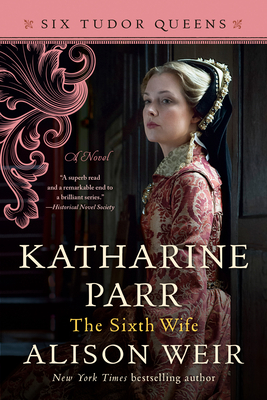 Description
---
Bestselling author and acclaimed historian Alison Weir brings her Tudor Queens series to a close with the remarkable story of Henry VIII's sixth and final wife, who manages to survive him and remarry, only to be thrown into a romantic intrigue that threatens the very throne of England.

"A superb read and a remarkable end to a brilliant series."—Historical Novel Society

Having sent his much-beloved but deceitful young wife Katheryn Howard to her beheading, King Henry fixes his lonely eyes on a more mature woman, thirty-year-old, twice-widowed Katharine Parr. She, however, is in love with Sir Thomas Seymour, brother to the late Queen Jane. Aware of his rival, Henry sends him abroad, leaving Katharine no choice but to become Henry's sixth queen in 1543. The king is no longer in any condition to father a child, but Katharine is content to mother his three children, Mary, Elizabeth, and the longed-for male heir, Edward.

Four years into the marriage, Henry dies, leaving England's throne to nine-year-old Edward—a puppet in the hands of ruthlessly ambitious royal courtiers—and Katharine's life takes a more complicated turn. Thrilled at this renewed opportunity to wed her first love, Katharine doesn't realize that Sir Thomas now sees her as a mere stepping stone to the throne, his eye actually set on bedding and wedding fourteen-year-old Elizabeth. The princess is innocently flattered by his attentions, allowing him into her bedroom, to the shock of her household. The result is a tangled tale of love and a struggle for power, bringing to a close the dramatic and violent reign of Henry VIII.
About the Author
---
Alison Weir is the New York Times bestselling author of the novels Katheryn of Aragon, The True Queen; Anne Boleyn, A King's Obsession; Jane Seymour, The Haunted Queen; Anna of Kleve, The Princess in the Portrait; Katheryn Howard, The Scandalous Queen; The Marriage Game; A Dangerous Inheritance; Captive Queen; The Lady Elizabeth; and Innocent Traitor, as well as numerous historical biographies, including Queens of the Crusades, Queens of the Conquest, The Lost Tudor Princess, Elizabeth of York, Mary Boleyn, The Lady in the Tower, Mistress of the Monarchy, Henry VIII, Eleanor of Aquitaine, The Life of Elizabeth I, and The Six Wives of Henry VIII. She lives in Surrey, England, with her husband.
Praise For…
---
"Like its predecessors, this is a detailed and convincing portrait of an extraordinary life. Taken as a whole, this series is a serious achievement."—The Times

"Weir delivers engaging historical characters, filling the white spaces of their lives with believable interests, convincing motivation, and realistic daily routines. . . . The conversations are sparkling, gripping and word-perfect. . . . This masterly novel seamlessly blends history into the story's fabric. A superb read and a remarkable end to a brilliant series."—Historical Novel Society

"This brilliant series has brought Henry VIII's six wives to life as never before. This novel will enthrall and inspire, just as much as it will break your heart"—Tracy Borman, author of The Private Lives of the Tudors

"Katharine Parr deserves better than to be known just as Henry VIII's sixth wife—the one who survived. And there's no one better placed than Alison Weir to restore her to her rightful place"—Sarah Gristwood, author of Game of Queens

"For the first time I felt as though, thanks to Alison's skillful writing and storytelling, I came to 'know' Katharine"—Nicola Tallis, author of Uncrowned Queen

"A tour de force . . . If you think you know everything about Henry VIII's last queen, you're in for a wonderful treat—you don't!"—Susan Ronald, author of The Pirate Queen

"An absorbing and fascinating read, meticulously researched as is always the case with Alison's work, and she really made Katharine live"—Sarah Rayne, author of A Dark Diving

"Engaging and deeply researched . . . Weir brings her expertise of the Tudor era to bear with rich detail and historical perspective on politics and religion, and the many intelligent conversations between Katherine and Henry VIII add to the charm. With a mercurial, captivating king as hook, Weir serves up a sharp and lucid blend of grim fact and stylish fiction."—Publishers Weekly