Katheryn Howard, The Scandalous Queen: A Novel (Six Tudor Queens) (Hardcover)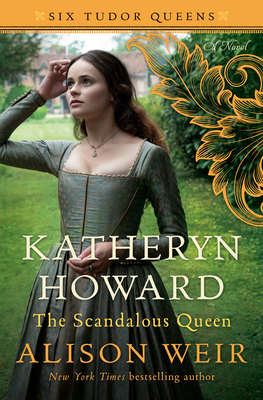 $28.99
Title is Backordered
Description
---
Bestselling author and acclaimed historian Alison Weir tells the tragic story of Henry VIII's fifth wife, a nineteen-year-old beauty with a hidden past, in this fifth novel in the sweeping Six Tudor Queens series.

"A vivid re-creation of a Tudor tragedy."—Kirkus Reviews

In the spring of 1540, Henry VIII is desperate to be rid of his unappealing German queen, Anna of Kleve. A prematurely aged and ailing forty-nine, with an ever-growing waistline, he casts an amorous eye on a pretty nineteen-year-old brunette, Katheryn Howard. Like her cousin Anne Boleyn, Katheryn is a niece of the Duke of Norfolk, England's premier Catholic peer, who is scheming to replace Anna of Kleve with a good Catholic queen. A flirtatious, eager participant in the life of the royal court, Katheryn readily succumbs to the king's attentions when she is intentionally pushed into his path by her ambitious family.

Henry quickly becomes besotted and is soon laying siege to Katheryn's virtue. But as instructed by her relations, she holds out for marriage and the wedding takes place a mere fortnight after the king's union to Anna is annulled. Henry tells the world his new bride is a rose without a thorn, and extols her beauty and her virtue, while Katheryn delights in the pleasures of being queen and the rich gifts her adoring husband showers upon her: the gorgeous gowns, the exquisite jewels, and the darling lap-dogs. She comes to love the ailing, obese king, enduring his nightly embraces with fortitude and kindness. If she can bear him a son, her triumph will be complete. But Katheryn has a past of which Henry knows nothing, and which comes back increasingly to haunt her—even as she courts danger yet again. What happens next to this naïve and much-wronged girl is one of the saddest chapters in English history.
About the Author
---
Alison Weir is the New York Times bestselling author of the novels Anna of Kleve, The Princess in the Portrait; Jane Seymour, The Haunted Queen;  Anne Boleyn, A King's Obsession; Katherine of Aragon, The True Queen; The Marriage Game; A Dangerous Inheritance; Captive Queen; The Lady Elizabeth; and Innocent Traitor, as well as numerous historical biographies, including Queens of the Conquest, The Lost Tudor Princess, Elizabeth of York, Mary Boleyn, The Lady in the Tower, Mistress of the Monarchy, Henry VIII, Eleanor of Aquitaine, The Life of Elizabeth I, and The Six Wives of Henry VIII. She lives in Surrey, England, with her husband.
Praise For…
---
"Absolutely stunning . . . I was completely gripped from the first page to the last. Katheryn emerges from the pages of this beautifully realized portrayal as beguiling, vivacious, and, in the end, tragically naive.  Her story, as a young woman who fell prey to the ruthless scheming of the men around her still resonates today, and Alison Weir tells it with characteristic verve and stunning period detail."—Tracy Borman, author of The Private Lives of the Tudors and Henry VIII and the Men Who Made Him

"A wonderful book . . . Katheryn Howard is, for me, the most tragic of Henry VIII's wives, and in her latest novel, Alison Weir covers her life from its early beginnings of impoverished nobility, her family wholly dependent on royal patronage, to her short period as queen, a position she had been pushed into, used as a pawn by her power-hungry family, though she lacked the intellect or sophistication to negotiate its pitfalls. The novel conveys the heart-rending pathos of a young woman executed, whose only real crime was her naïveté and her desire to be loved. It is a profoundly moving story that lingers long after the last page is turned."—Elizabeth Fremantle, author of Queen's Gambit and The Poison Bed

"This series is a serious achievement."—The Times (London)
­
"A vivid re-creation of a Tudor tragedy."—Kirkus Reviews

"Katheryn Howard . . . not only deceived the king about her previous lovers but dallied with another man during their marriage. What on earth was she thinking? In the fifth novel in her Six Tudor Queens series, Weir convincingly imagines the answer to that question. Incorporating period sources about Katheryn (which weave smoothly into the narrative), she plunges readers into the viewpoint of a fun-loving, naive young woman whose unorthodox upbringing and poor choices precipitated her downfall. . . . It's fascinating and disquieting to see how she justifies her decisions. Though Katheryn lacks the intellectual depth of Weir's previous heroines, her character portrait is similarly astute."—Booklist