All Quiet on the Western Front: Introduction by Norman Stone (Everyman's Library Contemporary Classics Series) (Hardcover)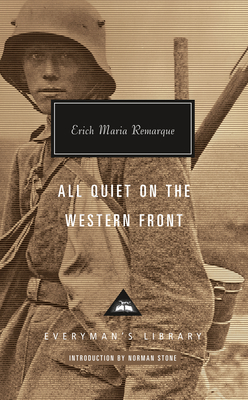 $28.00
Title is Backordered
Description
---
A hardcover edition of the classic tale of a young soldier's harrowing experiences in the trenches, widely acclaimed as the greatest war novel of all time—featuring an Introduction by historian Norman Stone. Now a Netflix Film.

When twenty-year-old Paul Bäumer and his classmates enlist in the German army during World War I, they are full of youthful enthusiam. But the world of duty, culture, and progress they had been taught to believe in shatters under the first brutal bombardment in the trenches. Through the ensuing years of horror, Paul holds fast to a single vow: to fight against the principle of hate that meaninglessly pits young men of the same generation but different uniforms against one another.

Erich Maria Remarque's classic novel not only portrays in vivid detail the combatants' physical and mental trauma, but dramatizes as well the tragic detachment from civilian life felt by many upon returning home. Remarque's stated intention—"to tell of a generation of men who, even though they may have escaped shells, were destroyed by the war"—remains as powerful and relevant as ever, a century after that conflict's end."

Everyman's Library pursues the highest production standards, printing on acid-free cream-colored paper, with full-cloth cases with two-color foil stamping, decorative endpapers, silk ribbon markers, European-style half-round spines, and a full-color illustrated jacket. Contemporary Classics include an introduction, a select bibliography, and a chronology of the author's life and times.
About the Author
---
ERICH MARIA REMARQUE was born in Germany in 1898 and drafted into the German army during World War I. His novel All Quiet on the Western Front was published in 1928 and was an instant best seller. When the Nazis came to power, Remarque left Germany for Switzerland; he lost his German citizenship, his books were burned, and his films banned. He went to the United States in 1938 and became a citizen in 1947. He later lived in Switzerland with his second wife, the actress Paulette Goddard. He died in September 1970.
Praise For…
---
"The world has a great writer in Erich Maria Remarque. He is a craftsman of unquestionably first rank, a man who can bend language to his will. Whether he writes of men or of inanimate nature, his touch is sensitive, firm, and sure."—The New York Times Book Review