Bullies A Boy's Story of Brutality (Paperback)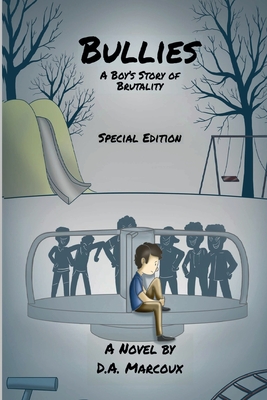 $15.00
Title is Backordered
Description
---
D.A. Marcoux has written an extraordinary story of being badly bullied as a child in his lower middle-class neighborhood in Southern California. Anthony was a nice little kid, being raised by kind and supportive parents, who just didn't realize what was happening to their much loved son.
Little did they know their young son was being badly beaten and intimidated into a life of crime and deception. Anthony's parents saw the bruises and bloody lips that he attributed to falling down or having accidents.The bruises, accidents and excuses were starting to escalate and would eventually, lead to an unfortunate conclusion
He went from being a good student, cub scout, promising baseball player and transformed into a Juvenile Delinquent in and out of jail. His exploits take him from the streets of Hawthorne, California to the mean streets of Hollywood where he is be-friended by a hostess in a bar named Cherry that more or less takes him under her wing after finding out he had escaped from Juvenile Hall.
Anthony spent his time avoiding the law and the tormentors from his neighborhood that unfortunately will catch up to him and leave him incarcerated at 14 in a Juvenile camp high up in the Angeles Forest. While in this Camp being separated from the bullies that have been ruining his life for so many years and his family that he has put through hell, he started to turn his life around for the better.
Once free from his incarceration he has no idea, that things were going to get a lot more heart-breaking for our young Anthony. He found himself truly lost and confused on what to do with his life now that his Father has mysteriously been found dead in his apartment. He spends the remaining several years trying to find himself and piece back together his lost childhood. This book is an in depth version of Bullies the Whole Story that has been previously released. A must read for all parents that suspect their child is being bullied or intimidated by neighborhood predators.