Pirate Queen: Book of the Navigator (Paperback)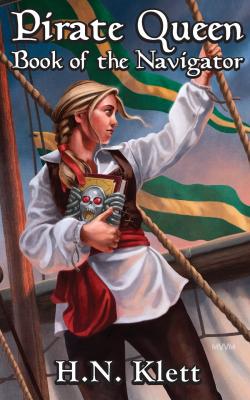 $14.99

Usually Ships in 1-5 Days
Description
---
Hailey Heartstone did not have an ordinary childhood. The only daughter of a merchant sailor, she grew up climbing ship's rigging, balancing high above decks, but lately Hailey struggles to find the balance in her life. She fears that her days on the sea are coming to an end and that a course has been plotted for her that will end in a stifling arranged marriage. But all that is about to change.
In one fateful moment, Hailey's life is ripped from its safe and predictable course and thrust into a storm of peril. She stumbles upon an ancient book and unlocks a dangerous power that thrusts her into a world full of deadly mists and phantom pirates intent on recovering what once was theirs.
Kidnapped from her family, Hailey must face true fear as she is forced into a journey to protect the power that she found and seek out those willing to help her save all that she loves before it is too late.
In this thrilling fantasy adventure, a young girl gifted with untapped abilities unlocks a dangerous power and must find her inner strength in time to fight the battle of her life, to save her family, and protect all that she holds dear. Fraught with twists and turns, H.N.Klett weaves an exhilarating adventure filled with magical powers, pirate clashes, hidden treasure, and unlikely friendships.
"H.N. Klett's debut fantasy novel is good old traditional fun A swashbuckling universe with lots of surprises, revelations, battles, turnabouts, and humor--you name it. Just what we expect from the genre and more. Way to go, Mr. Klett " --Fred Chappell, award winning author of Dagon and A Shadow All of Light
About the Author
---
H.N.Klett is a writer, podcast producer, warrior poet and (possibly) a madman, who hails from Raleigh, North Carolina. A natural story teller, H.N. has been writing and telling tales since he was a little boy, inundating teachers, professors, and anyone who would listen with his poetry, plays, short stories and novels. He uses life experiences of creating and breaking things to weave stories of intrigue, fantasy, science fiction, and humor. He has been described as a maniac armed with a pen and has created a swath of destruction in his wake. In the process of creating this book for your enjoyment, he successfully broke an unbreakable computer, shattered a shatterproof case, and annihilated several other machines much to the chagrin of his friends and loved ones. He is kept in Greensboro, North Carolina for your safety.
Praise For…
---
"H.N. Klett's debut fantasy novel is good old traditional fun! A swashbuckling universe with lots of surprises, revelations, battles, turnabouts, and humor—you name it. Just what we expect from the genre and more. Way to go, Mr. Klett!" —Fred Chappell, former Poet Laurette of North Carolina and award-winning author of Dagon and A Shadow All of Light