The Guinevere's Tale Trilogy (Paperback)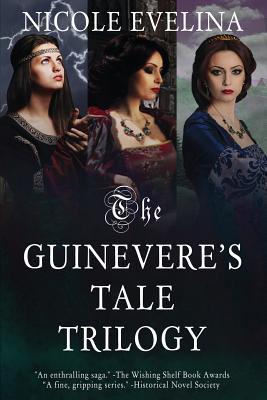 $40.00

Usually Ships in 1-5 Days
Description
---
Named Best Fiction Series by the Independent Book Publisher (IPPY) Awards.
Guinevere is remembered for her role as King Arthur's wife and for her adulterous affair with Lancelot. But there is so much more to her story...
Priestess. Queen. Warrior. Experience the world of King Arthur through Guinevere's eyes as she matures from a young priestess who never dreamed of becoming queen to the stalwart defender of a nation and a mistress whose sin would go down in history. Throughout it all, Guinevere faces threats from both foreign powers and within her own court that lead her to place her very life on the line to protect the dream of Camelot and save her people.
This compendium of Nicole Evelina's two-time Book of the Year award-winning trilogy - Daughter of Destiny, Camelot's Queen, and Mistress of Legend - gives fresh life to an age-old tale by adding historical context and emotional depth. Spanning more than three decades, it presents Guinevere as an equal to the famous men she is remembered for loving, while providing context for her controversial decisions and visiting little-known aspects of her life before and after her marriage to King Arthur.
Book One: Daughter of Destiny
Before queenship and Camelot, Guinevere was a priestess of Avalon. She loved another before Arthur, a warrior who would one day betray her. Learn the true story of her early life.
Book of the Year - Chanticleer Reviews
Best New Voice, (Silver Award), IBPA Benjamin Franklin Awards
Winner - North Street Book Prize
"Rich and stunning, easily comparable to novels by other bestselling historical fiction authors." - Chanticleer Book Reviews
Book Two: Camelot's Queen
Guinevere is now High Queen and Arthur's top strategist. But when she is feared dead, Arthur installs a new woman in her place, one who will poison his affections, threatening Guinevere's fragile sanity and driving her into the arms of her champion. Can the Grail's promise of peace set things right or will peace prove as dangerous as war?
Fiction Book of the Year - Author's Circle
Best Second Book - Next Generation Indie Book Awards
"Historical fantasy at its finest " - InD'Tale Magazine
Book Three: Mistress of Legend
Legend says Guinevere spent her final days in penance in a convent, but that is far from the truth. Not one to quietly cede power, she fights for her ancestral homeland against an invasion that threatens both her people and her life.
"Full of riveting action and surrealistic scenes of ancient lore...Deftly crafted and highly recommended historical fiction " Historical Novel Society