I've Got Your Back: Help Children Say Hello to Friends & Goodbye to Bullies (Paperback)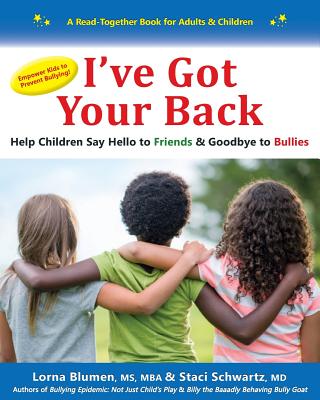 $14.95

Usually Ships in 1-5 Days
Description
---
Empower children to stop bullying in its tracks and let them know that caring adults will always have their backs I've Got Your Back: Help Children Say Hello to Friends & Goodbye to Bullies will guide adults as they help kids build positive, respectful friendships, stand up for themselves and one another, and develop empathy and self-esteem.
With over 35 years of combined experience as bullying prevention specialists, Lorna Blumen, MS, MBA and Staci Schwartz, MD identify the crucial ingredients of bullying prevention and offer effective strategies to deal with bullying and help children develop grit and resilience.
I've Got Your Back is short and action-focused, delivering key information to adults and kids (ages 5-10), in separate and read-together chapters. Children's friendship stories that illustrate common bullying problems feature "Stop & Think" questions for learning and discussion. Now bedtime reading can equip children with lifelong relationship skills
What's inside?
Bullying prevention essentials - what kids and adults really need to know
Engaging children's stories that offer action-oriented bullying prevention strategies and encourage communication between adults and children
Social skill-building activities for adults and children to do together that help kids feel supported, make friends, navigate social situations, and stop bullying
Teachers will also love I've Got Your Back. All activities can easily be adapted for classroom use.
Adults must model and set the tone for kids' bullying prevention. I've Got Your Back will inspire adults and children to become bully-resistant upstanders