2 Peter & Jude (LifeChange) (Paperback)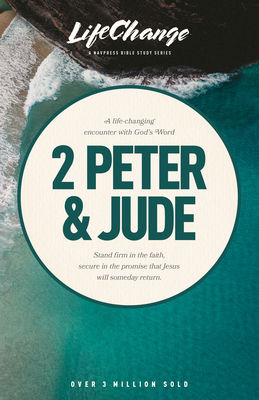 $9.99

Usually Ships in 1-5 Days
Description
---
Persecution from the Outside, Dangers from Within
The early church had faced persecution from outside the community. Now they were defending themselves from dangers within. Internal differences were not uncommon--but these churches were facing teachers who distorted the gospel for their own gain. Peter and Jude denounce these for-profit teachers and encourage Christ followers to stand firm in the faith, secure in the promise that Jesus will someday return.
LifeChange
LifeChange Bible studies will help you grow in Christlikeness through a life-changing encounter with God's Word. Filled with a wealth of ideas for going deeper so you can return to this study again and again.
Features
Cover the books of 2 Peter & Jude in 9 lessons
Equip yourself to lead a Bible study
Imagine the Bible's historical world
Study word origins and definitions
Explore thoughtful questions on key themes
Go deeper with optional projects
Add your notes with extra space and wide margins
Find the flexibility to fit the time you have
About the Author
---
SCOTT MORTON serves with The Navigators as Vice President of Development for U.S. ministries and is a member of the National Leadership Team. He graduated from Iowa State University in technical journalism and worked in newspaper advertising before joining the Navigator staff in 1970. Previous assignments include Columbia, Missouri; Iowa City, Iowa; Madison, Wisconsin; Minneapolis, Minnesota; and short-term ministries in Asia and Europe. He has served in Development since 1985 and has been on the National Leadership Team since 2004.

Scott and Alma met the Lord in The Navigators ministry at Iowa State. They have been married since 1964 and have two married daughters, one married son and four grandchildren.

The Mortons enjoy baseball (Scott was drafted by the Baltimore Orioles and Minnesota Twins), bird-watching, antiquing and helping people grow in their spiritual journeys through small group Bible studies and one-on-one mentoring. Scott also enjoys writing, having published Funding Your Ministry (Whether You're Gifted or Not), a book to help missionaries raise financial support, Down to Earth Discipling, a realistic approach to sharing one's faith with others and Tired of Do-List Christianity? which helps debunk the misconceptions that hold back spiritual growth and steal our joy.