The Dead Sea Scrolls and the Christian Myth (Paperback)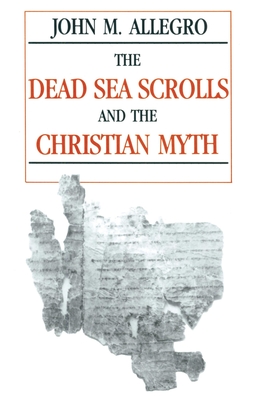 $29.99

Usually Ships in 1-5 Days
Description
---
Was Jesus of Nazareth a real historical person or a fictional character in a religious legend? What do the Dead Sea Scrolls reveal about the origins of Christianity? Has there been a conspiracy to suppress information in the Scrolls that contradicts traditional church teaching? John Allegro addresses these and many other intriguing questions in this fascinating account of what may be the most significant archaeological discovery of the twentieth century.

As one of the original scholars entrusted with the task of deciphering these ancient documents, Allegro worked on some of the most important texts, including the Biblical commentaries. In 1961, King Hussein of Jordan appointed him to be honorary advisor to the Jordanian government on the Dead Sea Scrolls. In his engaging and highly readable style, Allegro conveys the excitement of the initial archaeological find and takes the reader on a journey of intellectual discovery that goes to the heart of Western culture. Allegro suggests that Christianity evolved out of the Messianic theology of the Essenes, the Jewish sect that wrote the Dead Sea Scrolls.

This new edition of Allegro's book also contains an essay in which he describes the in-fighting among the scholars assigned to study the scrolls and his thirty-year battle to release all of the texts to the public. Allegro was one of the first scholars to protest the long delay in publishing the Scrolls and to criticize his colleagues for their secretive and possessive attitudes. This issue has recently been the focus of national media coverage, with the result that after forty years, open access to all of the Dead Sea Scrolls has finally been permitted.

If he had lived to see it, John Allegro would have been very pleased by this resolution of the controversy. In the same spirit of free inquiry that Allegro championed, Prometheus is reissuing his book in paperback to encourage open discussion of these important ancient texts.
About the Author
---
John Allegro (1923-1988) was an archaeologist and religious scholar. After serving as a naval officer during World War II, he earned his degree from the University of Manchester. Allegro is the author of The Dead Sea Scrolls, The People of the Dead Sea Scrolls, and The Treasure of the Copper Scroll.