Gumbo Ya Ya: Poems (Pitt Poetry Series) (Paperback)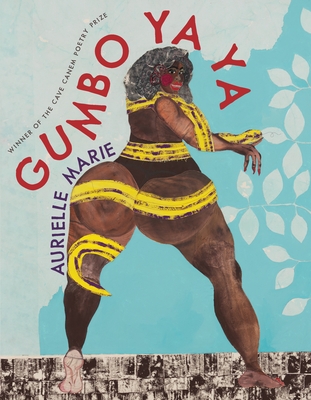 $18.00

Usually Ships in 1-5 Days
Description
---
Winner, 2022 Lambda Literary Award for Bisexual PoetryWinner, 2022 Georgia Author of the Year (Poetry)Finalist, 2023 Kate Tufts Discovery Award
Gumbo Ya Ya, Aurielle Marie's stunning debut, is a cauldron of hearty poems exploring race, gender, desire, and violence in the lives of Black gxrls, soaring against the backdrop of a contemporary South. These poems are loud, risky, and unapologetically rooted in the glory of Black gxrlhood. The collection opens with a heartrending indictment of injustice. What follows is a striking reimagination of the world, one where no Black gxrl dies "by the barrel of the law" or "for loving another Black gxrl." Part familial archival, part map of Black resistance, Gumbo Ya Ya catalogs the wide gamut of Black life at its intersections, with punching cultural commentary and a poetic voice that holds tenderness and sharpness in tandem. It asks us to chew upon both the rich meat and the tough gristle, and in doing so we walk away more whole than we began and thoroughly satisfied.
About the Author
---
Aurielle Marie is a Black and queer essayist, poet, and cultural strategist hailing from the Deep South. A 2019 Ploughshares Emerging Writer award recipient, she's received invitations to fellowships from many literary institutions, including Lambda Literary, VONA Voices, and Tin House. Her work is featured in TriQuarterly, Southeast Review, Black Warrior, and other journals. Aurielle Marie writes and speaks about Blackness, bodies, sex, and pop culture from a Black feminist lens.
Praise For…
---
"Sweeping and oracular, Marie's stunning Cave Canem Poetry Prize-winning collection showcases spellbinding performative notes and trailblazing formal innovations." —Booklist, starred review

"Admirable work for Black gxrls and anyone interested in strong new writing." —Library Journal

 

"Gumbo Ya Ya, Aurielle Marie's stunning debut, is a cauldron of hearty poems exploring race, gender, desire, and violence in the lives of Black gxrls, soaring against the backdrop of a contemporary South. These poems are loud, risky, and unapologetically rooted in the glory of Black gxrlhood." —The Rumpus

 

"Gumbo Ya Ya is at once gospel, praxis, translation, an archive, an offering, a mythology, a conjuring, a cartography of Blackness for us, by us. How glorious it is to traverse amongst these pages." —EcoTheo Collective
 

"Some writers write poetry to flex what they can do. Aurielle Marie writes reckoning poems themselves come to work. Gumbo Ya Ya kicks with this lit lit magic, this insistent electricity, pages that sweat ink, bleed it, weep it, drip it. Aurielle Marie will cuss, but an Aurielle Marie poem can curse; what she has seen, felt, or known, is trans-amplified in the room she gives the poem to do what it's gonna do. Gumbo Ya Ya is Aurielle Marie's Dirty-Dirty grimoire drawn from a vernacular trickbag at once up to something and down for whatever. These poems are spell weaving. They are bound to work you." —Douglas Kearney, Cave Canem Poetry Prize judge

"Aurielle Marie's Gumbo Ya Ya is a hex, a homily, a house of reckoning and revolution sprung from a young Black woman's willpower and wondrous capability. Diverse and daring in form, this gxrl gospel of gumbo serves molten exuberance on each page, defying expectation and launching us into new hope. Here is, indeed, a too-loud thing that cannot be contained by a room, but squeezes itself into our vision long and blued enough for our horizons to expand. Asé to this psalm and salvation of noise! Asé to this ritual in the creole of angels! Asé to each word!" —Tyehimba Jess, author of Olio

"Gumbo Ya-Ya is a rollick, a gut-screech, the unbridled bellow of a black gxrl, an inscrutable soup that tastes remarkably sharp and feral, like the covetous tip of the poet's drawn blade. To enter here is to provoke both revolution and revelation, to risk your known life at the feet of a fervid and improbable prophet. This is the realm of gone fathers, vexed ancestors, and the wreckage and resurrection of the black woman. If you pine for sanctuary, no pages here will shield you—no damned creature or concept is safe. Aurielle Marie is where and what poetry already thinks it is." —Patricia Smith, author of Incendiary

"I am so excited for this book. For its clear-eyed, direct, dazzle. For its candor and chaos and wit. There is a wild reckoning in these pages. I am ready for it. There's a welcoming ruckus here that I see myself in. To say these poems are smart and necessary and gorgeous would be an understatement. What are you waiting for? Crack open Gumbo Ya Ya and let Aurielle Marie crack open your life, mind, and dreams." —Camille T. Dungy, author of Trophic Cascade