Above New Orleans: Roofscapes of the Crescent City (Hardcover)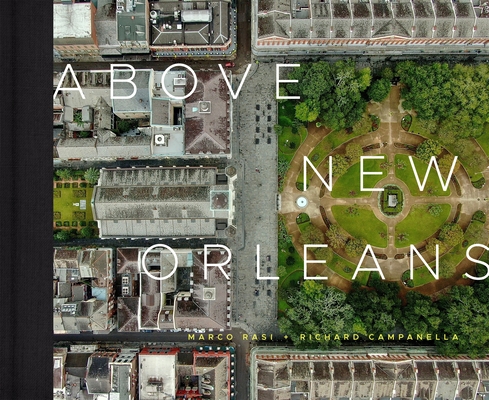 $59.95

Usually Ships in 1-5 Days
Description
---
The first full-length book of drone photography of the Crescent City, Above New Orleans offers readers perspectives never before captured by a camera. Overhead scenes cover the entire metropolis, from the French Quarter to Uptown, from the Mississippi River to Lake Pontchartrain, from Westwego to New Orleans East, and from Gentilly to Gretna. A detailed description accompanies each image, providing insight into the history, geography, and architecture of this dazzling municipality.
As this volume demonstrates, the vantage points afforded by the drone-mounted camera reveal fascinating views otherwise unobtainable in the often compact environment of New Orleans. "To me a roofscape is the
tout ensemble
of urban elements," writes Richard Campanella in the book's preface, "particularly in dense neighborhoods, visible from a perch that is high enough to be synoptical, yet low enough to be intimate. Roofscapes are the intermediary between the more familiar concepts of streetscapes and landscapes; they are the oblique, three-dimensional renderings of cityscapes." Capturing these views of New Orleans required the specialized equipment and expertise of retired Italian engineer Marco Rasi, who has mastered the new technology of drone photography in his adopted hometown. His adept piloting and keen eye made for, in Rasi's words, "the perfect platform to capture those rooftop perspectives I had always savored, as no aircraft or helicopter could ever do."
Above New Orleans: Roofscapes of the Crescent City
beautifully documents the aesthetic wonder of the city's singular urban landscape.
Praise For…
---
"Marco Rasi is a dazzling photographer, and Richard Campanella is a creative geographer with a profound feel for New Orleans. Together they have produced a delightful bird's-eye look at our city."—Walter Isaacson, New Orleans native and New York Times bestselling author
"The images that sweep across these pages offer an ethereal view of New Orleans while the accompanying text insightfully encapsulates nuances of the region."—Jason Berry, author of City of a Million Dreams: A History of New Orleans at Year 300