The Black Bestiary: A Phantasmagoria of Monsters and Myths from the Philippines (Hardcover)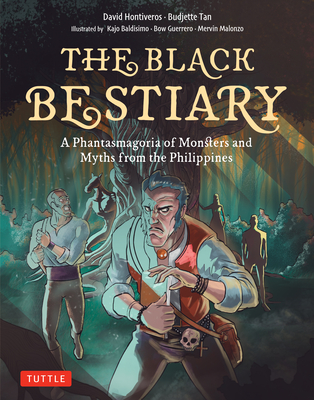 $16.99

Usually Ships in 1-5 Days
Description
---
How to train a Filipino dragon and other real-life adventures of three modern monster hunters Since
The Lost Journal of Alejandro Pardo
was published, other creature hunters have come out of the woodwork to share their spine-tingling accounts of more discoveries. True? Exaggerated? Out-and-out lies? Read on and decide for yourself
The Black Bestiary
adds to the list of powerful and fearsome supernatural creatures we met in
The Lost Journal of Alejandro Pardo
. Three modern creature hunters--RJ, Gus and Stanislav, who draw their inspiration from Pardo's work--relate their own chilling encounters with the sinister monsters that live among us. In this book, you'll come face-to-face with:
The Bungisngis --You've heard of the Cyclops; this is a Cyclops on steroids
The Tahamaling --Never hunt in the forest without permission from these maidens
The Tiktik-- Part avian, part human, part something else. These terrifying creatures feed on the unborn.
And many more creatures of horrifying aspect and predilection
You'll also discover excerpts from the journal of a certain Mr. Kolya, a contemporary of Pardo's, who always tells it like it was. Though these new sightings are all recent, the weapons used against them rely on tried-and-true magic--because forearmed, as well as forewarned, is always best
The Black Bestiary
is a lively romp through the world of the imagination, as well as a great way to learn more about Asian folklore, magic and myth.
About the Author
---
Budjette Tan is co-founder and editor-in-chief of Alamat Comics in the Philippines. However, he is best known for writing the urban fantasy comics series Trese, co-created with artist Kajo Baldisimo. It received the Philippine National Book Award for Best Graphic Novel in 2009, 2011, and 2012, and has since been adapted into an animated series by Netflix. He is also the co-creator of the award-winning Mikey Recio and the Secret of the Demon Dungeon. David Hontiveroswas a 1997 National Book Award finalist in the best comic book category for Dhampyr and a 2002 Palanca Award winner for his short story "Kaming Mag Seroks." In addition to being a founding member of Alamat Comics, he is the author of Craving, Parman, and Takod, and the Seroks science fiction collections. His ongoing comic book series "Bathala: Apokalypis" is available digitally. Illustrators: Kajo Baldisimo is a television storyboarder whose heart is in comic books. With Budjette Tan, he is co-creator of the urban fantasy Trese series, which won the Philippine National Book Award for Best Graphic Novel and has been adapted for television as an animated series by Netflix. Bow Guerrero is co-creator (with Budjette Tan) of the award-winning Mikey Recio and the Secret of the Demon Dungeon. He is an aficionado of visual history from old forts, churches, historic landmarks, and museums. Mervin Malonzo is the author and illustrator of the comic Tabi Po, which received a Philippine National Book Award in 2014 and was adapted to a TV mini-series in 2017. He has collaborated with a variety of authors to produce books about Philippine mythology like The Lost Journal of Alejandro Pardo, After Lambana, and Alternative Alamat. In his free time, he works on developing an animated series and film based on a comic called Ella Arcangel and operates the indie publishing house Haliya.