The Presidents and the Pastime: The History of Baseball and the White House (Hardcover)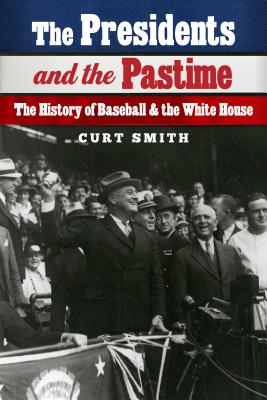 $29.95

Usually Ships in 1-5 Days
Description
---
The Presidents and the Pastime draws on Curt Smith's extensive background as a former White House presidential speechwriter to chronicle the historic relationship between baseball, the "most American" sport, and the U.S. presidency.

Smith, who USA TODAY calls "America's voice of authority on baseball broadcasting," starts before America's birth, when would‑be presidents played baseball antecedents. He charts how baseball cemented its reputation as America's pastime in the nineteenth century, such presidents as Lincoln and Johnson playing town ball or giving employees time off to watch. Smith tracks every U.S. president from Theodore Roosevelt to Donald Trump, each chapter filled with anecdotes: Wilson buoyed by baseball after suffering disability; a heroic FDR saving baseball in World War II; Carter, taught the game by his mother, Lillian; Reagan, airing baseball on radio that he never saw—by "re-creation."

George H. W. Bush, for whom Smith wrote, explains, "Baseball has everything." Smith, having interviewed a majority of presidents since Richard Nixon, shares personal stories on each. Throughout, The Presidents and the Pastime provides a riveting narrative of how America's leaders have treated baseball. From Taft as the first president to throw the "first pitch" on Opening Day in 1910 to Obama's "Go Sox!" scrawled in the guest register at the National Baseball Hall of Fame in 2014, our presidents have deemed it the quintessentially American sport, enriching both their office and the nation.
 Purchase the audio edition.
About the Author
---
CURT SMITH is a senior lecturer of English at the University of Rochester, a GateHouse Media columnist, and the author of sixteen books, including the classic Voices of the Game. He has written for such publications as Newsweek, the New York Times, and the Washington Post and has been named to the prestigious Judson Welliver Society of former presidential speechwriters. 
Praise For…
---
"Curt Smith, a former White House speechwriter, delves into the considerable relationship presidents have had with baseball, perhaps the most American of sports."—Ed Sherman, Chicago Tribune

"The Presidents and the Pastime is smartly written. . . . Smith writes in a conversational tone that sports fans and historians can appreciate. . . . Smith has produced a balanced view of the presidents' interaction with baseball that is easy to digest."—Bob D'Angelo, Sport in American History

"As a former presidential speechwriter and the author of Voices of the Game, the classic history of baseball broadcasting, Smith is the ideal person to unearth a rich vein of anecdotal material."—Ross Atkin, Christian Science Monitor

"The Presidents and the Pastime is a sunny book and a perfect summer read. While acknowledging faults, Smith focuses on the good in baseball, and the presidents covered regardless of party."—Mark Lardas, Galveston County Daily News

"The Presidents and the Pastime draws on Curt Smith's extensive background as a former White House presidential speechwriter to chronicle the historic relationship between baseball, the "most American" sport, and the U.S. presidency."—Bill Martinez Live

"Smith's book makes clear baseball's indelible mark on our national life and the president's own role in baseball's annual cycle. This comes through most clearly in his account of FDR—the president who more than any of his predecessors forged a personal bond with the American people, primarily through their radios but also through baseball."—Adam J. White, Weekly Standard

"Filled with anecdotes galore the result of intensive research, this terrific tome tantalizingly teases us with a new awareness of the subject matter."—Harvey Frommer, Baseball Reflections

"[The Presidents and the Pastime] is chock-full of interesting anecdotes that get to the heart of this long-standing relationship between the White House and the emerald diamond. We learn that the popularity of our national pastime among presidents may actually predate the presidency. Before becoming "the father of our country," George Washington found relief from the stresses of the Revolutionary War by playing the British game of rounders, an antecedent to baseball."—Scott Pitoniak, Rochester Business Journal

"Two of the most American of institutions are the Presidency and the game of baseball. They have been intertwined together for over a century—from Abraham Lincoln playing "town ball" to Barack Obama writing "Go Sox!" in the visitor book at the Baseball Hall of Fame, there are many stories of what the game has meant to Presidents. They are captured in this wonderful book. . . . Baseball fans, history buffs and political junkies will all love this book."—Guy Who Reviews Sports Books

"The Presidents and the Pastime is ultimately very satisfying, on the one hand a primer—or reminder—of the notable events (and sometimes scandals) of each administration, and on the other an examination of the changes in the game throughout the last 110 years, in particular. From Reagan's game recreations on Des Moines radio to Nixon's "Dream Team" selections to Taft's first pitch and inadvertent original "seventh inning stretch," Smith details it all in a book The Gipper would surely be proud of."—Jerry Milani, Gotham Baseball