The Moody Handbook of Messianic Prophecy: Studies and Expositions of the Messiah in the Old Testament (Hardcover)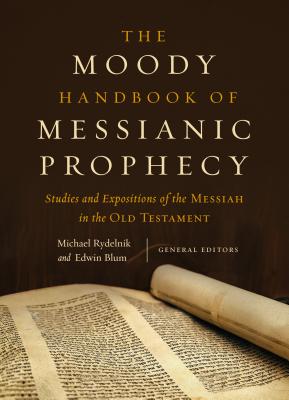 $39.99

Usually Ships in 1-5 Days
Description
---
The ultimate, all-in-one resource on what the Old Testament says about Jesus
As Jesus walked the Emmaeus road, he showed his companions how the whole of Scripture foretold his coming. Yet so often today we're not quite sure how to talk about Jesus in the Old Testament. How do you know what applies to Jesus? And how do you interpret some of the strange prophetic language?
Get answers and clarity in this authoritative and reliable guide to messianic prophecy from some of the world's foremost evangelical Old Testament scholars.
In this in-depth, user-friendly one volume resource you get:
-essays from scholars on the big ideas and major themes surrounding Messianic prophecy
-A clear and careful commentary on every passage in the Old Testament considered Messianic
-Insights into the original Hebrew and helpful analysis of theological implications
Watch the Scriptures come into full color as you see new meaning in familiar passages and further appreciate God's masterful handiwork in preparing the way for Jesus, the long-awaited Messiah.
About the Author
---
DR. MICHAEL RYDELNIK is Professor of Jewish Studies and Bible at Moody Bible Institute and the Host/Bible Teacher on Open Line with Dr. Michael Rydelnik, answering listener Bible questions on over 225 stations nationwide across Moody Radio. The son of Holocaust survivors, he was raised in an observant Jewish home in Brooklyn, New York. As a high school student, Michael became a follower of Jesus the Messiah and began teaching the Bible almost immediately. Besides his work on The Moody Bible Commentary and The Moody Handbook of Messianic Prophecy as Co-Editor and contributor, Michael is also the author of several books and numerous articles. His doctoral research focused on the Messiah in the Hebrew Bible. Michael and his wife Eva live in Chicago, love hiking with their collie and boxer, and have two terrific adult sons, a delightful daughter-in-law, and the cutest two grandchildren in the world.

DR. EDWIN A. BLUM (D. Theol, University of Basel; ThD, Dallas Theological Seminary) for many years was Professor of Theology and New Testament at Dallas Theological Seminary. He served as Senior Pastor of several churches in Houston and Dallas, TX and was the Executive Director of the Christian Medical Society. The author of several commentaries and multiple articles, Ed also was the General Editor of the Holman Christian Standard Bible translation and the General Editor of the CSB Study Bible. Ed and his wife Ann live in Prescott, AZ and are the parents of five adult children.