The Pocket Book of Backyard Experiments: Discover the Laboratory in Your Garden (Paperback)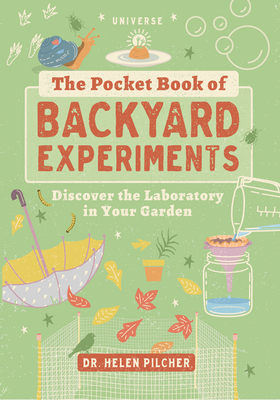 $22.50
Title is Backordered
Description
---
A handy, charmingly designed book filled with more than eighty experiments for the whole family--discover, learn, and enjoy a better understanding of basic garden science.

From testing garden soil to making a homemade battery out of a potato, this book reveals the hidden science at work in the garden and around the house.

The book is divided into four sections, each focusing on one area: biology, soil science, botany, and "kitchen sink" chemistry. Each experiment is straightforward and easy, involving no more than common household items. Learn how to germinate seeds with little more than envelopes and used egg cartons or amaze friends with the art of optical illusion. While learning how to create a homemade ant farm or making a pressed herbarium specimen, kids get grounded in the basic principles of science.

The experiments have been designed as participatory learning activities that bring kids and family members together with the aim of developing young people's learning skills, interest in science, and the world around them.
About the Author
---
Dr. Helen Pilcher has a PhD in cell biology from the London Institute of Psychiatry and has written for Nature, the Guardian, BBC Focus, and New Scientist.
Praise For…
---
"Mother Nature is a great teacher. Children can explore her lessons waiting in the garden with The Pocket Book of Backyard Experiments by Dr. Helen Pilcher. The eighty experiments use playtime to teach basic botany, soil science, biology, chemistry, and more…this book will help children find their inner researcher and gain a deeper appreciation for the natural world." —FLOWER MAGAZINE 

"If you are looking for a book to keep your kids minds working, check out this book."
—ALPHA OMEGA FAMILY ADVENTURES 

"Today I wanted to highlight an amazing new book for kids that centers around fun in the garden. It is perfect in light of current events and how much time we are spending at home right now (sheltering in place due to Covid-19) but it is also timeless. It gives kids some great ideas for getting outside, in the garden, to unleash their inner researcher and scientist." —NATUREMOMS.COM 

"Several new books engage children in hands-on activities, and my favorite is "The Pocket Book of Backyard Experiments: Discover the Laboratory in Your Garden" by Dr. Helen Pilcher. There are 80 activities, many of which involve going outdoors and experiencing nature." —REGISTER-GUARD