Dog Activity Kit: Engage, Challenge & Bond with your Dog! Includes: 32-page Dog Activity Book • 3 Play Cups • Tennis Ball (Kit)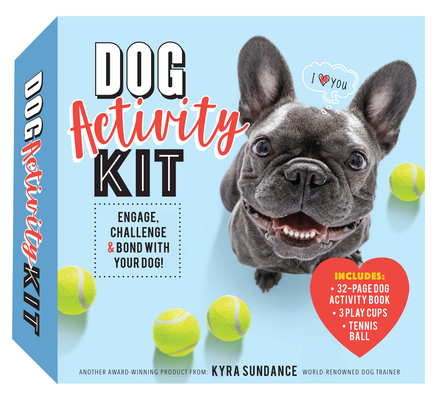 $19.99
Title is Backordered
Description
---
The Dog Activity Kit provides you the expert instruction and materials you need to train your dog to keep him or her happy, safe, and healthy!
Step-by-step instructions and photography show you exactly what to do as you lead your pup through obedience tricks, games, and exercises. Build a safe and respectful relationship with your pet as you bond, build confidence, and have fun.
No special tools (such as clickers) or knowledge of specific training methods are required. The amazing yet simple-to-learn tricks and games include: hide-and-seek, fetch, shell game, fetch a ball, see if your dog is right or left handed, and tidy up toys into toy box. Also included are homemade dog treat recipes and tips on grooming. 
Inside the kit you'll find:
32-Page Dog Activity Training Book: Guided by world-renowned dog trainer and best-selling author Kyra Sundance, learn the best ways to fulfill your dog in his or her mental, physical, and social development and well-being. You'll be set up for success with positive training skills that reward your dog for good behavior.
Three Game Cups: These specially designed training aids help you teach tricks the easy way!
 Hidden-Slot Fetching Ball: You can put your dog's favorite treats inside the ball for encouragement. 

With this all-in-one activity kit, strengthen your bond with your dog for a positive and fun-filled friendship.
About the Author
---
Kyra Sundance is a world-renowned dog trainer, lecturer, and internationally best-selling author of 101 Dog Tricks: Step by Step Activities to Engage, Challenge and Bond with Your Dog. With over a million copies in print, Kyra's award-winning books, kits, and DVDs have inspired dog owners worldwide to develop fun and rewarding relationships with their dogs. Her other books include Dog Training 101, The Joy of Dog Training, The Dog Tricks and Training Workbook, Kyra's Canine Conditioning, 51 Puppy Tricks, 10-Minute Dog Training Games, The Pocket Guide to Dog Tricks, and 101 Dog Tricks, Kids Edition.
Honed through decades of professional experience, Kyra's easy step-by-step training methods are the most effective and humane way to train. Her positive methods foster confident, happy dogs who are motivated to do the right thing, rather than fearful of making a mistake.
As professional performers, Kyra and her Weimaraners starred in shows for the king of Morocco, Disney's Hollywood stage shows, circuses, NBA halftime shows, on The Tonight Show, Ellen, Animal Planet, in movies, and in their own television series. Kyra is a professional set trainer for movie dogs, and is nationally ranked in competitive dog sports. She presents workshops around the world on dog tricks and canine conditioning.
Kyra is CEO of "Do More With Your Dog!" trick dog titling organization; the "National Trick Dog championships"; and Chair of the "Trick Dog Expo."
Kyra lives in Lancaster, California.