The Skystone: The Dream of Eagles Vol. 1 (Camulod Chronicles #1) (Paperback)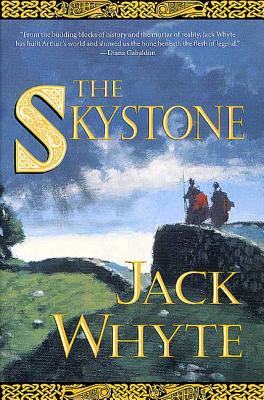 $18.99

Usually Ships in 1-5 Days
Other Books in Series
This is book number 1 in the Camulod Chronicles series.
Description
---
This first novel in Jack Whyte's riveting Arthurian series tells how the story of Camelot may have actually come to be.

We all know the story—how Arthur pulled the sword from the stone and how Camelot came to be.

But how did it really happen?

The Roman citizens of Britain faced a deadly choice: leave to live in a corrupt Roman world, or stay amidst the violence of the warring factions of Picts, Celts, and invading Saxons.

For Publius Varrus and Caius Britannicus, there is only one answer. They will stay, try to preserve the best of Roman life, and create a new culture from the wreckage.

In doing so, they will plant the seeds of a legend. For these two men are Arthur's great-grandfathers and their actions will shape a nation...and forge the sword known as Excalibur.
About the Author
---
JACK WHYTE was born and raised in Scotland and has lived in Canada since 1967.  He has been an actor, orator, singer, and poet at various stages of his life, and was awarded an honorary doctorate of letters for his contribution to Canadian popular fiction.  Whyte is the author of the internationally bestselling Dream of Eagles series and the Templar trilogy.  He lives in Kelowna, British Columbia.
Praise For…
---
"From the building blocks of history and the mortar of reality, Jack Whyte has built Arthur's world, and showed us the bone beneath the flesh of legend." —Diana Gabaldon

"Jack Whyte is a master storyteller . . . . Wyte breathes life into the Arthurian myths by weaving the reality of history into them." —Tony Hillerman

"I loved the book. It was an extraordinary story, totally original and clearly there is a lot more excitement to come in the upcoming volumes." —Rosamunde Pilcher