Four Streets and a Square: A History of Manhattan and the New York Idea (Hardcover)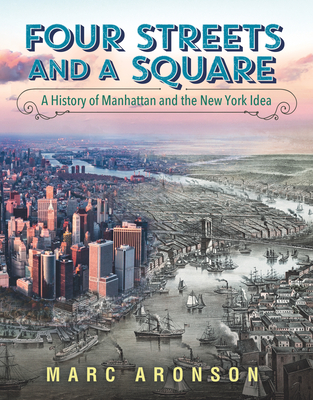 $29.99

Usually Ships in 1-5 Days
Description
---
From a Sibert Medalist comes the epic story of Manhattan—a magical, maddening island "for all" and a microcosm of America.

A veteran nonfiction storyteller dives deep into the four-hundred-year history of Manhattan to map the island's unexpected intersections. Focusing on the evolution of four streets and a square (Wall Street, 42nd Street, West 4th Street, 125th Street, and Union Square) Marc Aronson explores how new ideas and forms of art evolved from social blending. Centuries of conflict—among original Americans and Europeans, slavers and the enslaved, rich and poor, immigrants and native-born—produced segregation, oppression, and violence, but also new ways of speaking, singing, and being American. From the Harlem Renaissance to Hammerstein, from gay pride in the Village to political clashes at Tammany Hall, this clear-eyed pageant of the island's joys and struggles—enhanced with photos and drawings, multimedia links to music and film, and an extensive bibliography and source notes—is, above all, a love song to Manhattan's triumphs.
About the Author
---
Marc Aronson is an award-winning author and editor whose books include 1968: Today's Authors Explore a Year of Rebellion, Revolution, and Change and1789: Twelve Authors Explore a Year of Rebellion, Revolution, and Change, both coedited by Susan Campbell Bartoletti; War Is. . .: Soldiers, Survivors, and Storytellers Talk About War, coedited by Patty Campbell; and Master of Deceit: J. Edgar Hoover and America in the Age of Lies. He is part of the graduate faculty at Rutgers University School of Communication and Information. Born in Manhattan, he now lives in New Jersey.
Praise For…
---
This beautifully written book eloquently gives voice to the myriad of people who built New York into the singular city it is today. A profound declaration of love for the city of New York.
—Kirkus Reviews (starred review)

A well-organized and impeccably researched nonfiction book about the history of New York City from the 1600s to present. . . . A great choice for research or for those who can't get enough of the Big Apple.
—School Library Journal (starred review)

In this ambitious, richly visual "biography of an island and an idea," Aronson (Poisoned Water) covers 400 years of Manhattan history. . . An intersectionally inclusive, well-contextualized volume.
—Publishers Weekly (starred review)

With meticulous detail and an innovative format, [Aronson] presents four hundred years of Manhattan's history. . . Consider this Aronson's four-hundred-plus-page love letter to his hometown.
—The Horn Book

Aronson's love of his hometown shines through in this detailed history of and ode to the "idea" of New York. . . Aronson truly imparts a feeling of the city's vigor and the degree to which immigrants made and make it.
—Booklist

In this ambitious, free-wheeling history of NYC, Aronson identifies five places of bustling activity that are emblematic of the city's greatest aspirations.
—The Bulletin of the Center for Children's Books

Marc Aronson's delightful history of New York City is a tribute to the city he loves, but one honest enough not to shy away from its conflicts and challenges over the years. Insightful, provocative, and fascinating, this is a read full of fresh discoveries no matter how much you think you already know about New York.
—Kevin Baker, author of The Fall of a Great American City: New York and the Urban Crisis of Affluence

What happened when a jam-packed, noisy, messy, dynamic city opened its arms to immigrants, peoples of various races, religions, ethnicities, and sexual orientations? Well, New York City happened. Marc Aronson's fascinating Four Streets and a Square deftly portrays how one small island became a smorgasbord of music, art, theater, and finance, creating a uniquely American culture.
—Susan Kuklin, author of In Search of Safety: Voices of Refugees

Once again, historian Marc Aronson does his research and delivers.
—Vaunda Micheaux Nelson, award winning author of No Crystal Stair: A Documentary Novel of the Life and Work of Lewis Michaux, Harlem Bookseller

Marc Aronson infuses every fascinating page with a palpable love for the city itself—its chaos, its culture, its history, and its inherent drama. This book should be required reading for anyone who has ever stepped foot on the isle of Manhattan, and everyone else who aspires to.
—David Rockwell, architect and designer

Anyone who loves New York will love Four Streets and a Square. It is gorgeously illustrated and chock full of fascinating facts about every period of the city's history.
—Dr. Tyler Anbinder, professor of history at George Washington University and author of City of Dreams: The 400-Year Epic History of Immigrant New York

In this insightful book, Marc Aronson invites a new generation of readers to explore the island where New York City was born. Imaginatively conceived, vividly written, and creatively illustrated, Four Streets and a Square is a rewarding read.
—Robert W. Snyder, Manhattan Borough Historian and professor emeritus at Rutgers University–Newark