Mastering Sculpture: The Figure in Clay: A Guide to Capturing the Human Form for Ceramic Artists (Mastering Ceramics) (Hardcover)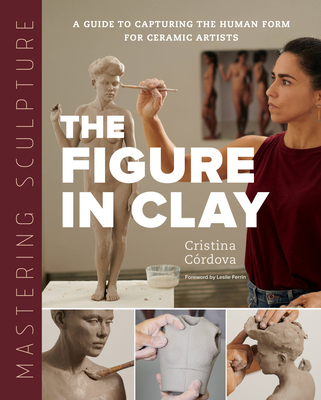 $35.00

Usually Ships in 1-5 Days
Description
---
Explore the human form in depth, from concept sketches and armatures to detailed instructions for constructing legs, torso, arms, hands, and head from clay.
In
Mastering Sculpture: The Figure in Clay
,
renowned sculptor and instructorCristina Córdova
teaches everything you need to know to replicate the full human figure using clay.
Start by developing meaningful sketches and reference points.
Then learn how to make and use an armature to create hollow forms that are safe to fire in a kiln.
Using patterns and slabs, you can move on to develop a full human form, head to toe.
Work along with the author to create a form about two-feet tall, or choose your own size: the patterns and instructions can work in a variety of scales.
Photographic demonstrations and diagrams
cover the construction and articulation of feet and legs, the hip area and upper torso, arms, hands, neck, and head. Cristina includes
supplementary tips and insights
throughout to support the sculpting process and enhance naturalism. You'll also find a brief section on
general anatomical concepts
and
modeling strategies
to facilitate accuracy and expression as all the components come together.
Whether you are a clay artist
with limited experience in figurative sculpture
or a figurative sculptor
outside the world of ceramics looking for a straightforward fabrication strategy to create permanent compositions from clay,
Mastering Sculpture: The Figure in Clay
will expertly guide your way.
About the Author
---
Cristina Córdova is a contemporary artist and sculpting instructor whose work is collected around the world. She is featured in the permanent collection of the Smithsonian American Art Museum; The Colección Acosta de San Juan, Puerto Rico; the Mint Museum of Craft + Design; the Museum of Contemporary Art; and the Alfred Ceramic Art Museum, among others. She is the recipient of numerous grants and award, including NC Arts Council Fellowship Grant, a Virginia Groot Foundation Recognition Grant, several International Association of Art Critics of Puerto Rico awards, and in 2015 the prestigious United States Artist Fellowship award. Her work is widely featured in all major ceramics and arts media, including the covers of Ceramics Monthly, and was featured by Craft in America, on PBS, in their episode on Identity.

Cristina has taught and demonstrated around the world, though she focuses mostly on US locations. Her residencies, workshops, and classes include: Harvard University, the University of California, the University of Nebraska, the University of Georgia, the University of North Carolina School of the Arts, Ceramistas de Reñaca in Chile, the Australian National University in Canberra, Gaya Ceramics in Bali, Penland School of Crafts (NC), Haystack Mountain School (ME), Santa Fe Clay (NM), Mudfire (GA), Odyssey Center for Ceramics (NC), and Anderson Ranch (CO), among others.
Praise For…
---
"Readers of this book will discover that Cristina is an alchemist, mixing accuracy and instinct in perfect measure to bring clay, slip, and glaze to life. As an artist, she translates the human form with sensitivity and expression. As an instructor, she articulates complex information clearly and deliberately for sculptors at any level of experience. Cristina's fascination with the human form is infectious; her commitment and attention to detail are constants throughout the book."—Leslie Noell, creative director, Penland School of Craft

"A wonderful resource for anyone who wants to gain a deeper understanding of figurative sculpture. It is hard to imagine anyone better suited than Cristina to offer this expertise and experience as she is a gifted artist and generous educator. I highly recommend this book for artists or enthusiasts of any skill level."—Steven Young Lee, resident artist director, Archie Bray Foundation

"This is an exceptional book by an exceptional artist. Cristina Córdova has delivered a rare document that reveals highly useful information in a refreshingly smart, concise, and elegantly organized way. In so doing, she has also captured a deeply felt regard for the poetry and beauty of the human figure and the power of clay to render emotional depth."—Wayne Higby, professor of ceramic art, director and chief curator, Alfred Ceramic Art Museum, Alfred

"Cristina Córdova's unique multicultural education and perspective has given her an unmatched combination of academic rigor and unfettered creativity in her approach to sculpting the human figure. This book is a road map to acquiring a skill set that is rarely taught in art schools anymore… and an incredible gift to those on a quest to master figural sculpture."—Garth Johnson, Paul Phillips and Sharon Sullivan Curator of Ceramics, Everson Museum of Art

"Creating figures and narratives that spring from her ongoing exploration of the human psyche and existential pathos, Cristina Córdova is a super talent whose sculptures, full body or fragmented, single figure or installation, contain the whole history of art in every pose and gesture, at once strikingly contemporary and timeless. Her imagination is matched by her skill and by her generosity in sharing her craft."—Annie Carlano, senior curator of craft, design, and fashion, The Mint Museum

"This book is a testament to Cristina's beautiful work as well as the clarity of instruction on how she makes it. She is a wealth of talent and integrity. She makes figuration look so seamless and easy. I might try coiling the figure now!"—Tip Toland, acclaimed ceramics artist

"Cristina Córdova is unquestionably one of the most talented, rigorous, and artistically ambitious artists working with the figure today—period."—Tony Marsh, professor emeritus, California State University Long Beach

"Exceptionally well organized and presented making it an ideal DIY instruction guide and manual, Mastering Sculpture: The Figure in Clay is an especially and unreservedly recommended as a textbook for art class curriculums on sculpture, and an essential, core addition to personal, professional, community, college, university, and art school Sculpting Art Techniques collections."—Midwest Book Review