Versus: Pirates (Hardcover)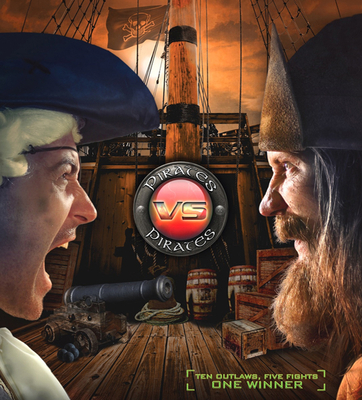 $19.99
Title is Backordered
Description
---
What would happen if the Golden Age pirate, Blackbeard, fought the dashing Muslim pirate Barbarossa? Who would win and why? Who would be the ultimate fighting pirate? In "VS Pirates," two pirate gangs meet on classic pirate ships and engage in fierce combat, with a hand-to-hand battle between the leader of each gang. Information on chosen weapons (such as clubs, cutlasses and caltrops), plus armor and tactics, gives further insight to each pirate's strengths and character.
About the Author
---
Richard Platt is an award-winning author and pirate expert. His Pirate Diary won the Kate Greenaway Medal 2002, the Silver Smarties Award 2002, and the 'Best Book With Facts' prize in the Blue Peter Book Awards 2003. Castle Diary was also shortlisted for several awards. Richard has written numerous books for Kingfisher including Eureka! (longlisted for the Aventis Prize) Kingfisher Knowledge: Communication; Forensics (shortlisted for the Aventis Prize) Through Time: Pompeii; Beijing; London Steve Stone is an accomplished illustrator. He has worked on hundreds of book covers, most notable Stephen King's DARK TOWER series and Terry Brooks' epic fantasy series SHANNARA. He has produced many commissions in the advertising sector for clients as diverse as General Electric, Sony and Mars. His most recent book with Kingfisher is Versus: Warriors
Praise For…
---
Tucsoncitizen.com[F]ascinating new book, geared for children ten years and older.  Filled with rich illustration and historical facts, there are ten dastardly pirates in five incredible duels with one ultimate winner.