Let's Talk About Anxiety: A Guide to Help Adults Talk With Kids About Worries (Cards)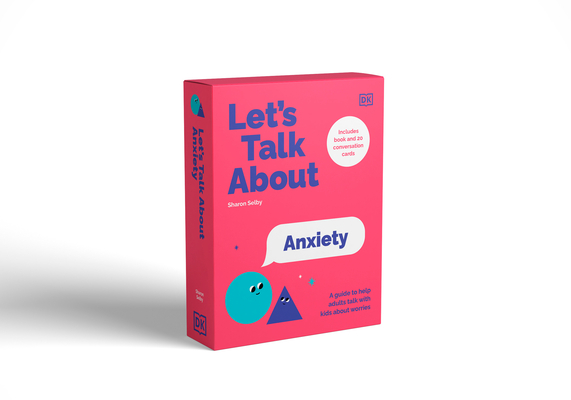 Description
---
Start the conversation and help a child open up about worries with Let's Talk About Anxiety.

Featuring a beautifully illustrated book and 20 accompanying conversation cards, Let's Talk About Anxiety inspires thoughtful discussion between adults and children, helping young people speak about their worries and concerns.

Whether it's explaining what worry feels like or providing a child with the tools to cope in situations where they feel nervous, the activities and exercises inside use prompts and images to discuss important issues with a focus on mental well-being and understanding. This set allows adults to engage with children on an emotional level, helping them to develop emotional connections, as well as growing their compassion, communication, and effective listening skills.

About the Author
---
Sharon Selby is a Registered Clinical Counsellor (MA) and Founder of Toddler to Teen® Anxiety Solutions. She is passionate about reducing the high levels of anxiety impacting children, running anxiety management groups and 1:1 counselling to tackle the issue. Sharon is the author of Surfing the Worry Imp's Wave, which teaches children and caregivers about anxiety and cognitive behavioural therapy strategies. She is a sought-out media personality, from print and radio to television and TEDx. Visit www.sharonselby.com for more info.
Praise For…
---
"Let's Talk About Anxiety is an intelligent, fun, and practical guide for adults who want to help kids manage and overcome anxiety. The reflections and questions included in the cards are easy to understand and lead to insightful conversations. It is an excellent resource for mental health professionals, parents and for other adults wanting to support kids in their lives." —Cristina Lima, Registered Clinical Counsellor


"[A] unique format, combining a book with conversation cards, that will enhance its effectiveness in helping kids and their parents to understand and manage anxiety." —Todd C. Mason, Ph.D., R. Psych.


"This is a comprehensive, user friendly set of cards that helps families begin conversations about anxiety.  It covers so many aspects of this often debilitating mental health struggle.  These cards are a great way to start dismantling the power of anxiety and build back a child's confidence in themselves." —Sue Diewert, Clinical Counsellor

"The cards and activities really spark great conversations and have made the girls I'm working with realize that they are not the only ones that feel how they are feeling." —Stefanie Muller, MS, CYT, CCRT

"This card deck and book has been a great resource for my students with anxiety in my counselling office. I've let students flip through it and land on a topic that is something they want to work through, and the suggestions have been great...Some students have even come back to use the cards again! I love the simplicity of it and how accessible it is for all levels." —Janelle Koop, Director of Counselling