When Our Grown Kids Disappoint Us: Letting Go of Their Problems, Loving Them Anyway, and Getting on with Our Lives (Paperback)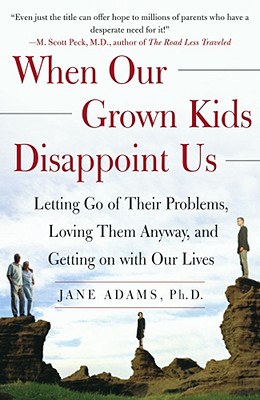 $17.00

Usually Ships in 1-5 Days
Description
---
How do today's parents cope when the dreams we had for our children clash with reality? What can we do for our twenty- and even thirty-somethings who can't seem to grow up? How can we help our depressed, dependent, or addicted adult children, the ones who can't get their lives started, who are just marking time or even doing it? What's the right strategy when our smart, capable "adultolescents" won't leave home or come boomeranging back? Who can we turn to when the kids aren't all right and we, their parents, are frightened, frustrated, resentful, embarrassed, and especially, disappointed?

In this groundbreaking book, a social psychologist who's been chronicling the lives of American families for over two decades confronts our deepest concerns, including our silence and self-imposed sense of isolation, when our grown kids have failed to thrive. She listens to a generation that "did everything right" and expected its children to grow into happy, healthy, successful adults. But they haven't, at least, not yet—and meanwhile, we're letting their problems threaten our health, marriages, security, freedom, careers or retirement, and other family relationships.

With warmth, empathy, and perspective, Dr. Adams offers a positive, life-affirming message to parents who are still trying to "fix" their adult children—Stop! She shows us how to separate from their problems without separating from them, and how to be a positive force in their lives while getting on with our own. As we navigate this critical passage in our second adulthood and their first, the bestselling author of I'm Still Your Mother reminds us that the pleasures and possibilities of postparenthood should not depend on how our kids turn out, but on how we do!
About the Author
---
Jane Adams has spent over two decades researching and reporting on how Americans live, work, and love, and especially how they respond to social change. A frequent media commentator, she has appeared on every major radio and television program. The author of eight nonfiction books and three novels, she is a talented communicator, and an expert in managing personal, professional and family boundaries, dealing with grown children, coping with change, and balancing life and work.

A graduate of Smith College, Jane Adams holds a Ph.D. in social psychology and has studied at Seattle Institute of Psychoanalysis and the Washington, D.C. Psychoanalytic Foundation. She has been an award-winning journalist, a founding editor of the Seattle Weekly, and an adjunct professor at the University of Washington. She is the recipient of the Family Advocate of the Year award from "Changes," an organization devoted to improving relationships between parents and adolescent children.