Sneakiest Uses for Everyday Things: How to Make a Boomerang with a Business Card, Convert a Pencil into a Microphone and more (Sneaky Books #3) (Paperback)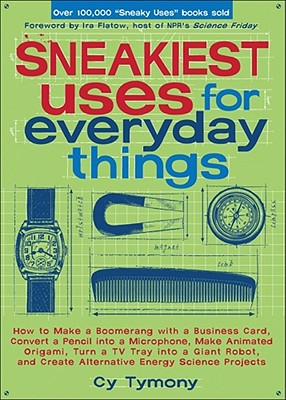 $10.99

Usually Ships in 1-5 Days
Other Books in Series
This is book number 3 in the Sneaky Books series.
Description
---
For folks who wonder why they keep tossing odds and ends in that junk drawer in the kitchen, Sneakiest Uses for Everyday Things offers evidence that technology doesn't always have to come from Best Buy, Amazon.com, or Microsoft." --U.S. News and World Report


* Putterers, would-be inventers, and science-fair parents rejoice as Cy Tymony offers fifty new projects to bring out your inner MacGyver.

In the third book in Cy Tymony's Sneaky Uses series you will learn how to turn a piece of paper into a Frisbee, a business card into a boomerang, a TV tray into a robot, and more.

* Beginning with a complete list of materials and continuing through easy-to-follow step-by-step instructions paired with helpful illustrations, most projects will be completed in just minutes using common items found around the house.

* Teachers, parents, scout leaders, and enterprising youngsters will use their ingenuity to turn ordinary, everyday objects into something extraordinary, like a pencil into a microphone, Walkman ear buds into an intercom, or a telephone cord into a motor. The book also includes bonus alternative-energy projects and a foreword by NPR's Science Friday host Ira Flatow.
About the Author
---
 Cy Tymony has been creating homemade inventions since childhood. He has appeared on
CNN Headline News
, ABC's
Chicago Morning Show
, and NPR's
Science Friday with Ira Flatow
, and he has been featured in the
Chicago Tribune
and
Future Life
magazine. Cy is a technical writer and computer specialist in Los Angeles, California.
Online:
www.sneakyuses.com