Divorce Busting: A Step-By-Step Approach to Making Your Marriage Loving Again (Paperback)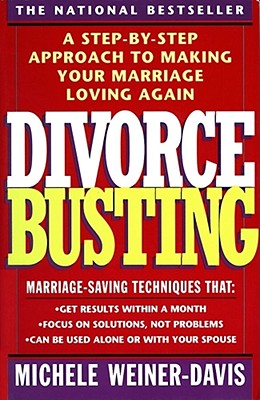 $17.99

Usually Ships in 1-5 Days
Description
---
In this groundbreaking book, Michele Weiner-Davis gives straightforward, effective advice on preventing divorce and how couples can stay together instead of coming apart.

Using case histories to illustrate her marriage-enriching, divorce-preventing techniques, which can be used even if only one partner participates, Weiner-Davis shows readers:

* How to leave the past behind and set attainable goals
* Strategies for identifying problem-solving behavior that works—and how to make changes last
* "Uncommon-sense" methods for breaking unproductive patterns

Inspirational and accessible, Divorce Busting shows readers in pain that working it out is better than getting out.
About the Author
---
Michele Weiner-Davis, MSW, is an internationally renowned relationship expert and author of several books including The Divorce Remedy, the bestselling Divorce Busting, A Woman's Guide to Changing Her Man, Change Your Life and Everyone in It, and In Search of Solutions. She has appeared as a regular guest on Oprah, 48 Hours, The Today Show, CBS This Morning, and taped a seminar on PBS entitled Keeping Love Alive. A therapist in private practice specializing in Solution-Oriented Brief Therapy, her highly-acclaimed workshops have earned her national recognition. She lives in Illinois with her husband of over thirty years.
Praise For…
---
Arlene Modica Matthews author of Why Did I Marry You, Anyway? This refreshing approach for breaking relationship stalemates may be just the catalyst for change your relationship requires.

Claire Berman author of A Hole in My Heart: Adult Children of Divorce Speak Out By focusing on the positive and the possible, Weiner-Davis offers couples hope and much needed help in making marriages work.