The Off Season (Paperback)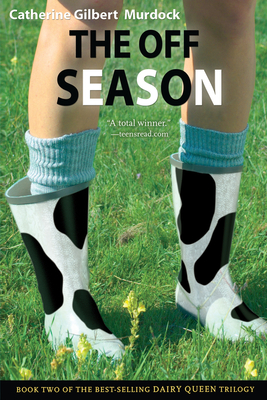 $9.99
Title is Backordered
Description
---
Life is looking up for D.J. Schwenk. She's in eleventh grade, finally. After a rocky summer, she's reconnecting in a big way with her best friend, Amber. She's got kind of a thing going with Brian Nelson, who's cute and popular and smart but seems to like her anyway. And then there's the fact she's starting for the Red Bend High School football team—the first girl linebacker in northern Wisconsin, probably. Which just shows you can't predict the future. As autumn progresses, D.J. struggles to understand Amber, Schwenk Farm, her relationship with Brian, and most of all her family. As a whole herd of trouble comes her way, she discovers she's a lot stronger than she—or anyone—ever thought.
   This hilarious, heartbreaking and triumphant sequel to the critically acclaimed Dairy Queen takes D.J. and all the Schwenks from Labor Day to a Thanksgiving football game that you will never forget.
About the Author
---
Catherine Murdock grew up on a small farm in Connecticut and now lives in suburban Philadelphia with her husband, two brilliant unicycling children, several cats, and a one-acre yard that she is slowly transforming into a wee, but flourishing ecosystem. She is the author of several books, including the popular Dairy Queen series starring lovable heroine D. J. Schwenk,  Princess Ben, and Wisdom's Kiss.
Praise For…
---
"This funny, touching follow-up to Dairy Queen (2006), a 2007 Best Book for Young Adults, succeeds whether read on its own or as a sequel. . . . D. J. is an easygoing, likable narrator, full of self-deprecating humor and insight, and her struggles, whether they are everyday or life altering, will resonate with teen audiences."  —Booklist, ALA "More ambitious and wide-ranging than its prequel, The Off Season provides an insightful glimpse into the rewards and challenges of the culture of middle-American farm families. At the same time, it's a broad-strokes portrait of a quintessential tomboy. D.J.'s voice is all her own--strong-minded but insecure, unstructured but witty, practical but emotional--and she is easy to cheer for, whether she's accosting a bully or awkwardly trying to understand the people and relationships that so often confuse her."  —Horn Book "Though D.J. is an enormously likable character, the impact of this book is carried through the action." —Bulletin of the Center for Children's Books "The main character is likable…[She] has qualities uniquely her own that readers can relate to, sympathize with and ultimately admire."  —KLIATT "D.J.'s self-deprecating, down-to-earth voice will draw readers in, even if they have yet to read 'Dairy Queen'."  —Minn. StarTribune "There is action as well as introspection in this story of overcoming adversity...attracting and inspiring...Murdock has another winner."  —VOYA (Voice of Youth Advocates) "The tragicomedy is powerful."  —Columbus Dispatch —