Predicting New Words: The Secrets of Their Success (Paperback)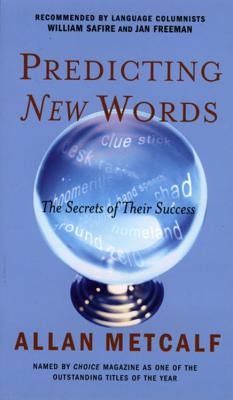 $16.99

Usually Ships in 1-5 Days
Description
---
Have you ever aspired to gain linguistic immortality by making up a word? Many people — such famous writers as Jonathan Swift, Lewis Carroll, and Dr. Seuss, along with many lesser-knowns — have coined new words that have endured. But most of the new words people put forward fail to find favor. Why are some new words adopted, while others are ignored? Allan Metcalf explores this question in his fascinating look at new-word creation.
In surveying past coinages and proposed new words, Metcalf discerns lessons for linguistic longevity. He shows us, for instance, why the humorist Gelett Burgess succeeded in contributing the words blurb and bromide to the language but failed to win anyone over to bleesh or diabob. Metcalf examines terms invented to describe political causes and social phenomena (silent majority, Gen-X), terms coined in books (edge city, Catch-22), brand names and words derived from them (aspirin, Ping-Pong), and words that derive from misunderstandings (cherry, kudo). He develops a scale for predicting the success of newly coined words and uses it to foretell which emerging words will outlast the twenty-first century. In this highly original work, Metcalf shows us how to spin syllabic straw into linguistic gold.
About the Author
---
Allan Metcalf is a professor of English at MacMurray College, executive secretary of the American Dialect Society, and author of books on language and writing. His books on language include AMERICA IN SO MANY WORDS (with David K. Barnhart), THE WORLD IN SO MANY WORDS, HOW WE TALK: AMERICAN REGIONAL ENGLISH TODAY, PREDICTING NEW WORDS, and PRESIDENTIAL VOICES. His books on writing include RESEARCH TO THE POINT and ESSENTIALS OF WRITING TO THE POINT. He lives in Jacksonville, Illinois.
Praise For…
---
"Has something for everyone . . . jam-packed with treats for word lovers." Booklist, ALA

"Just plain fun." Kirkus Reviews —