The Emotional Lives of Teenagers: Raising Connected, Capable, and Compassionate Adolescents (Hardcover)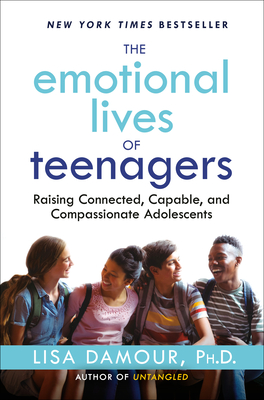 Description
---
NEW YORK TIMES BESTSELLER • An urgently needed guide to help parents understand their teenagers' intense and often fraught emotional lives—and how to support teens through this critical developmental stage—from the author of Untangled and Under Pressure

"How are we supposed to get our kids through these daunting years? There are countless books on the subject, but The Emotional Lives of Teenagers is the nuanced, empathetic one I wish I'd had when I was in the trenches."—Judith Newman, The New York Times Book Review

In teenagers, powerful emotions come with the territory. And as teens contend with with academic pressure, social media stress, worries about the future, and concerns about their own mental health, it's easy for them—and their parents—to feel anxious and overwhelmed. But it doesn't have to be that way.

Parents who read this book will learn:

• what to expect in the normal course of adolescent emotional development and when it's time to worry
• why teens (and adults) need to understand that mental health isn't about "feeling good" but about having feelings that fit the moment, even if those feelings are unwanted or painful
• strategies for supporting teens who feel at the mercy of their emotions, so they can become psychologically aware and skilled at managing their feelings
• how to approach common challenges that come with adolescence, such as friction at home, spiking anxiety, risky behavior, navigating friendships and romances, the pull of social media, and many more
• the best ways to stay connected to their teens and how to provide the kind of relationship that adolescents need and want

With clear, research-informed explanations alongside illuminating, real-life examples, The Emotional Lives of Teenagers gives parents the concrete, practical information they need to steady their teens through the bumpy yet transformational journey into adulthood.
About the Author
---
Recognized as a thought leader by the American Psychological Association, Lisa Damour, Ph.D., co-hosts the Ask Lisa podcast, writes about adolescents for the The New York Times, appears as a regular contributor to CBS News, works in collaboration with UNICEF, and maintains a clinical practice. She is the author of two New York Times bestsellers, Untangled: Guiding Teenage Girls Through the Seven Transitions into Adulthood and Under Pressure: Confronting the Epidemic of Stress and Anxiety in Girls. She and her husband have two daughters and live in Shaker Heights, Ohio.
Praise For…
---
"The Emotional Lives of Teenagers does a very simple and very difficult thing. It helps me feel ready for the joy, and the storm, to come."—Slate

"Filled with relatable situations, examples, and suggestions for constructive conversations, this book will be welcomed by parents and anyone who works with adolescents. Parents looking for timely advice and reassurance will find it here in clear layman's language."—Booklist

"A calm, wise, and empathetic guide to a difficult period for both adolescents and parents."—Kirkus Reviews

"Damour's down-to-earth tone gives this the feel of a conversation with a friend, while the psychology offers valuable perspective into the scientific underpinnings of adolescence. Parents of teens will want to check this out."—Publishers Weekly

"The Emotional Lives of Teenagers is written as clearly, usefully, and warmly as anything I've read about the psychology of adolescence. Lisa Damour explains why intense feelings—including negative ones—are a key part of teenage development, and how we can help young people understand and embrace the full spectrum of human emotion. I give it my highest recommendation!"—Angela Duckworth, author of Grit and co-founder of Character Lab

"Lisa Damour applies her decades of clinical experience to one of the most essential questions of our time: How can adults best support adolescent mental health? She hands parents, teachers, coaches, and mentors the playbook they need to help teenagers feel heard, healthy, and whole."—Jewel, singer-songwriter and mental health advocate

"This book offers a crucial reframing that helps parents understand teens, their emotions, and their behavior. I couldn't love it more. Damour gifts us with knowledge, words, and practical advice to reach our teenagers so that we can be the parents they need us to be as they become fully themselves."—Tina Payne Bryson, co-author of The Whole-Brain Child

"In her latest book, Dr. Damour dispels harmful but pervasive myths about teen mental health. If, like most parents, you find yourself alienated or confused by your teen's unpredictable feelings, add this book to the top of your reading pile immediately."—Michelle Icard, author of Fourteen Talks by Age Fourteen

"I can't recommend this book enough. Damour gives parents practical and actionable research-backed advice to ensure their children develop the emotional skills they need to thrive."—Marc Brackett, director, Yale Center for Emotional Intelligence and author of Permission to Feel