Well, That Was Unexpected (Paperback)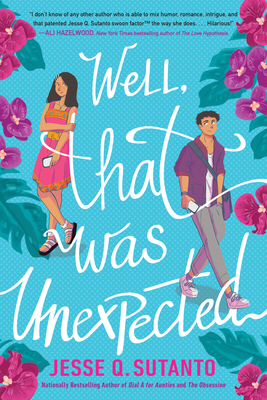 Description
---
"Hilarious!"--Ali Hazelwood, New York Times bestselling author of The Love Hypothesis

A laugh-out-loud YA rom-com about a girl who's whisked from LA to her mother's native Indonesia to get back to her roots and finds herself fake-dating the son of one of the wealthiest families there, from the bestselling author of Dial A for Aunties and The Obsession

After Sharlot Citra's mother catches her in a compromising position, she finds herself whisked away from LA to her mother's native Indonesia. It'll be exactly what they both need. Or so her mother thinks.

When George Clooney Tanuwijaya's father (who is obsessed with American celebrities) fears he no longer understands how to get through to his son, he decides to take matters into his own hands.

To ensure that their children find the right kind of romantic partner, Sharlot's mother and George's father do what any "good" parent would do: they strike up a conversation online, pretending to be their children.

When the kids find out about their parents' actions, they're horrified. Not even a trip to one of the most romantic places on earth could possibly make Sharlot and George fall for each other. But as the layers peel back and the person they thought they knew from online is revealed, the truth becomes more complicated. As unlikely as it may seem, did their parents manage to find their true match after all?
About the Author
---
Jesse Q Sutanto is the author of the YA thrillers The Obsession and The New Girl, and the adult rom coms Dial A for Aunties and Four Aunties and a Wedding. She grew up shuttling back and forth between Indonesia, Singapore, and Oxford and considers all three places her home. Visit her online at jesseqsutanto.com.
Praise For…
---
Praise for Well, That Was Unexpected:

"Well, That was Unexpected is a delightful, hilarious, captivating love letter to Indonesia, and coming of age in a large meddlesome family, and the thrill of finding your person where you least expect it!"— Ali Hazelwood, New York Times bestselling author of The Love Hypothesis

"A hilarious, heartfelt rom-com with a refreshing take on matchmaking, complete with embarrassing, yet well meaning, parents and a social media twist."—Krystal Marquis, author of The Davenports

"Charming and immersive, this book feels like taking a trip to Indonesia. Jesse Q. Sutanto writes such vibrant characters, with gorgeous descriptions of setting, culture, and food. Don't read this on an empty stomach!"—Nicole Lesperance, author of The Depths.

"[Y]ou will enjoy every minute of it."—E! Online

"Sutanto is the queen of quirky heroines in borderline chaotic situations."—BuzzFeed

★ "The novel is full to the brim with humor, heart, and a joyous celebration of Chinese Indonesian culture. In a novel that brings to mind Bridget Jones' Diary, Sutanto has created a book that readers will want to return to again and again."—Booklist, starred review

"[An] uproarious rom-com...Sutanto explores the richness of Indonesian culture and history through alternating first-person perspectives, a large and vibrant Chinese Indonesian cast, well-timed comedy, and soap opera–worthy drama in this summery read."—PW

"Sutanto's novel is full of hijinks, humor, and heart. A delightfully lively rom-com."—Kirkus Reviews