Directed by James Burrows: Five Decades of Stories from the Legendary Director of Taxi, Cheers, Frasier, Friends, Will & Grace, and More (Hardcover)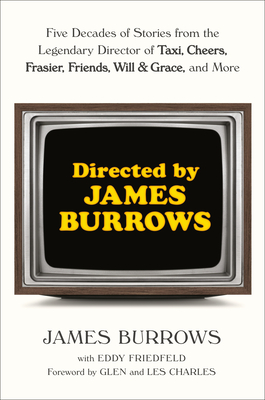 $28.99
Title is Backordered
Description
---
"Being directed by the Jimmy Burrows, while on Friends, was like hitting the jackpot. I'm delighted that everyone can now share in his incredible insight with this book."—JENNIFER ANISTON

From the director of The Mary Tyler Moore Show, Taxi, Cheers, Frasier, and Will & Grace comes an insightful and nostalgic behind-the-scenes memoir that's "as difficult to put down as a Friends marathon is to turn off" (The Washington Post).

Legendary sitcom director James Burrows has spent five decades making America laugh. Here readers will find never-revealed stories behind the casting of the dozens of great sitcoms he directed, as well as details as to how these memorable shows were created, how they got on the air, and how the cast and crew continued to develop and grow. Burrows also examines his own challenges, career victories, and defeats, and provides advice for aspiring directors, writers, and actors. All this from the man who helped launch the careers of Ted Danson, Kelsey Grammer, Woody Harrelson, Jennifer Aniston, Debra Messing, and Melissa McCarthy, to name a few. 

Burrows talks fondly about the inspiration he found during his childhood and young adult years, including his father, legendary playwright and Broadway director Abe Burrows. From there he goes on to explain his rigorous work ethic, forged in his early years in theater, where he did everything from stage managing to building sets to, finally, directing. Transitioning to television, Burrows locked into a coveted job with The Mary Tyler Moore Show, where he first observed and then started to apply his craft. Directing most of the episodes of Taxi came next, where he worked closely with writers/producers Glen and Les Charles. The three formed a remarkable creative partnership that helped Burrows achieve his much sought-after goal of ownership and agency over a project, which came with the creating and directing of the seminal and beloved hit Cheers. Burrows has directed more than seventy-five pilots that have gone to series and over a thousand episodes, more than any other director in history.

Directed by James Burrows is a heart-and-soul master class in sitcom, revealing what it truly takes to get a laugh.
About the Author
---
James Burrows has directed more than one thousand episodes of sitcom television and has earned eleven Emmy Awards and five Directors Guild of America Awards. His five-decade career began in theater, stage managing on Broadway and directing regional theater. In 1974, he began his television career directing episodes of The Mary Tyler Moore Show, The Bob Newhart Show, and Laverne & Shirley. He became the resident director on Taxi, then co-created the beloved classic Cheers, directing 243 of the 273 episodes, as well as all 246 episodes of Will & Grace. He has directed the pilots and multiple episodes of Frasier, Friends, Mike & Molly, the pilots of Two and a Half Men and The Big Bang Theory, and hundreds of other shows, where he has nurtured and mentored some of television's biggest stars.
Praise For…
---
"Great binge reading for comedy buffs and aficionados of Must See TV. It's as difficult to put down as a Friends marathon is to turn off."—The Washington Post
 
"If this book were a television show, it would fall squarely in the workplace-comedy category.…[Burrows is] a lucky, hard-working guy with some great stories to tell."—The Wall Street Journal
 
"A side-splittingly hilarious tell-all that is part memoir and part master class on working in television . . . A treasure trove of brilliant advice, stories and uproarious routings from classic TV shows."—Shelf Awareness (starred review)

"Being directed by the Jimmy Burrows, while on Friends, was like hitting the jackpot. He's directed some of the greatest television shows in history, and I'm grateful for having had the chance to work with him. I'm delighted that everyone can now share in his incredible insight with this book. He's an American treasure and a living legend who will forever be part of my family."—Jennifer Aniston

"As we pursued parallel careers during the '70s and '80s, I could not have admired Jim Burrows more. There has not been a more efficient, effective, creative, and admirable television director's career than the one established by Jim Burrows. Recently and for the first time, I have finally been working with him and consider myself a lucky dude."—Norman Lear

"Jimmy directs with the skill of a legendary conductor. More than anyone else, he listens to the musicality of the comedy and understands the power of movement in escalating the poignancy of the moment. How wonderful that we now get a look behind the proverbial curtain; to hear, from a true master of his craft, stories and insights from a lifetime of iconic television creation."—Debra Messing

"Jim Burrows could stage the Nuremberg Trials and find more laughs there than most directors could in A Midsummer Night's Dream. If you have owned a television in the last fifty years, this man has brought joy to your life; we all owe him a happy debt."—Christopher Lloyd

"Jimmy hears the music."—Chuck Lorre

"In this dazzling tell-all, director Burrows takes readers on a rollicking our through the hardworking world of sitcoms . . . Fans will relish the intricate breakdowns of movements, lines, and characters, as much as they will Burrows's infectious passion for his craft. . . . This delivers on all counts."—Publishers Weekly (starred review)
 
"In this absolutely essential book, [Burrows] takes us through his career. . . . A wonderful book about the world of television."—Booklist (starred review)

"A love letter to the art of TV comedy and a how-to guide for aspiring writers, directors, and actors. . . . Infused with classic scenes and memorable lines form his many shows, Burrows's writing is funny, self-effacing, and nostalgic. [His] insights will delight fans and inspire ambitious artists."—Library Journal