Praying with Jane Eyre: Reflections on Reading as a Sacred Practice (Hardcover)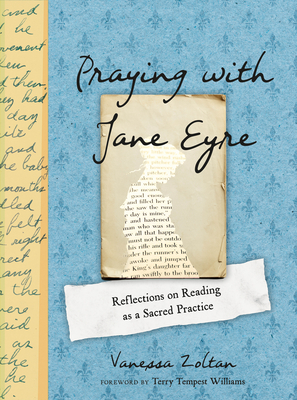 $27.00
Title is Backordered
Description
---
"In these soaring, open-hearted essays, Vanessa Zoltan writes with fierce brilliance about suffering, survival, and the kind of meaning in life that can withstand real scrutiny."—John Green, bestselling author of The Fault in Our Stars and The Anthropocene Reviewed


A deeply felt celebration of a classic novel--and a reflection on the ways our favorite books can shape and heal us.

Our favorite books keep us company, give us hope, and help us find meaning in a chaotic world. In this fresh and relatable work, atheist chaplain Vanessa Zoltan blends memoir and personal growth as she grapples with the notions of family legacy and identity through the lens of her favorite novel, Jane Eyre. Informed by the reading practices of medieval monks and rabbinic scholars from her training at the Harvard Divinity School and filtered through the pages of Jane Eyre as well as Little Women, Harry Potter, and The Great Gatsby, Zoltan explores topics ranging from the trauma she has inherited as the granddaughter of four Holocaust survivors to finding hope, meaning, and even magic in our deeply fractured times. Brimming with a lifelong love of classic literature and the tenderness of self-reflection, the book also reveals simple techniques for reading any work as a sacred text--from Virginia Woolf to Anne of Green Gables to baseball scorecards.

Whether you're an avowed "Eyrehead" or simply a curious reader looking for a richer connection with the written word, this deeply felt and inspiring book will light the way to a more intimate appreciation for whatever books you love to read.
About the Author
---
Vanessa Zoltan has a B.A. in English literature and creative writing from Washington University in Saint Louis, an M.S. in nonprofit management from the University of Pennsylvania, and a M.Div. from Harvard Divinity School. She is the CEO and founder of Not Sorry Productions, which produces the podcasts Harry Potter and the Sacred Text, Twilight in Quarantine, and Hot & Bothered. She also runs pilgrimages and walking tours that explore sacred reading and writing.
Praise For…
---
"Praying with Jane Eyre is literary, spiritual, and autobiographical all at once. This is a book committed to the truths of things—from the Holocaust to personal betrayal—no matter how hard those truths may be. . . . We can follow [Vanessa's] example of learning how to read as if our lives depend on it—which I believe they do." —Terry Tempest Williams, from the foreword

"In these soaring, open-hearted essays, Vanessa Zoltan writes with fierce brilliance about suffering, survival, and the kind of meaning in life that can withstand real scrutiny."
—John Green, bestselling author of The Fault in Our Stars and The Anthropocene Reviewed

"As an atheist, I've hungered for these sermons. As a reader, I've longed for this exegesis. This is a book about much more than how to pray secularly, and much more than how to read reverently. It is a book about how to be. And it is told through the wondrous earthly companionship of not just Jane Eyre, but the miraculous Vanessa Zoltan."—Lauren Sandler, author of This Is All I Got and Righteous

"How does one create a life of meaning—not merely a sense of purpose, but a ritual and a practice to give that purpose structure and power—when traditional religion feels untenable? Vanessa Zoltan destroys the boundaries between ethics and aesthetics with a radical and beautiful idea, one that will ring true to every passionate reader: that intentional reading can empower and shape our lives. More than a love letter to the power of books, more than a reinterpreting of religious practice, and much more than a reading of Jane Eyre, Praying with Jane Eyre invites us, in Zoltan's accessible voice, into an intimacy with the most vulnerable parts of ourselves, and shows us how literature can sanctify them."—Dara Horn, author of Eternal Life and People Love Dead Jews

"This book will make you laugh. It will make you cry. But best of all, it will change the way you read forever."—Casper ter Kuile, author of The Power of Ritual and cohost of Harry Potter and the Sacred Text

"Praying with Jane Eyre is a readable, huggable guide to better living, and loving, through literature—not to mention the most affectionate portrait of grandparents that I have read in ages. And doses of Jay Gatsby and Harry Potter besides. Who can resist?"—Mark Oppenheimer, host, Unorthodox podcast