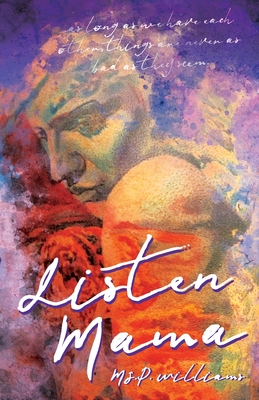 $10.95

Usually Ships in 1-5 Days
Description
---
Finalist for Best Audiobook Memoir --2022 Audie Awards
Finalist for Best Memoir --2022 BookLife/Publishers Weekly Selfies US Book Award
Finalist for Best Memoir --2022 Eric Hoffer Award
Finalist for Best African American Literary Nonfiction --2022 Indie Book Awards
"As dramatic as it is heartbreaking." --Kirkus Reviews
"Warmly likable man doing his utmost to struggle through more tragedy and bad luck than any human being should be handed." -- BookLife/Publishers Weekly Review
"Young adult (and many an adult) readers will find LISTEN MAMA a thoroughly absorbing story." --Midwest Book Review
"His descriptive writing has humor and heart..." --AudioFile Magazine
"Even though the book has heartbreak, it has happiness and humor. YA readers will love this moving memoir." --ReaderViews, Reviewer's Choice Silver Award
"LISTEN MAMA authentically details the sliding scale of hopes and frustration." --IndieReader, Starred review
Through a series of letters at times heart-breaking, poetic, and unexpectedly humorous, come explore this true teen and young adult journey of a lost soul searching for the love of his mentally ill mother. While facing seemingly insurmountable odds, Manny ultimately becomes her caretaker and guardian while also parenting his four younger siblings in 1990's Houston, Texas.
Witness his transformation in this coming-of-age story of a forgotten and disfigured black child, born into spirit-crushing poverty, and thrust into adult life all too soon. Manny's teen years are spent battling the silent and treacherous enemy of mental illness in his mother's erratic and terrifying behavior. Years of bullying and abuse finally take their toll, and Manny soon finds himself at war with his own demons of depression, anxiety, and suicide attempts as he struggles to find his place in the world, and the true meaning of unconditional love.
Experience this inspirational story of loss, faith, love, and redemption that is guaranteed to bring forth both tears and laughter, heartache and happiness, as it captures your imagination, ignites your soul, and soon has you racing from page to page, breathlessly waiting to discover what happens next...