Proust Was A Neuroscientist (Paperback)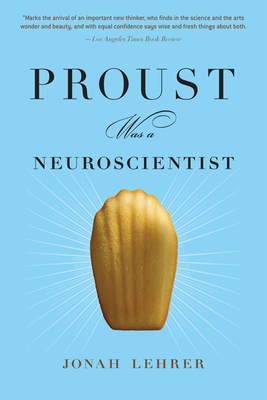 $15.99
Title is Backordered
Description
---
An ingenious blend of biography, criticism, and first-rate science writing, New York Times bestselling author Jonah Lehrer's Proust Was a Neuroscientist urges science and art to listen more closely to each other, for willing minds can combine the best of both, to brilliant effect.

In this technology-driven age, it's tempting to believe that science can solve every mystery. After all, science has cured countless diseases and even sent humans into space. But as Jonah Lehrer argues in this sparkling debut, science is not the only path to knowledge. In fact, when it comes to understanding the brain, art got there first.

Taking a group of artists — a painter, a poet, a chef, a composer, and a handful of novelists — Lehrer shows how each one discovered an essential truth about the mind that science is only now rediscovering. We learn, for example, how Proust first revealed the fallibility of memory; how George Eliot discovered the brain's malleability; how the French chef Escoffier discovered umami (the fifth taste); how Cézanne worked out the subtleties of vision; and how Gertrude Stein exposed the deep structure of language — a full half-century before the work of Noam Chomsky and other linguists.

Proust Was a Neuroscientist is the ultimate tale of art trumping science, demonstrating that there's a cost to reducing everything to atoms and acronyms and genes. Measurement is not the same as understanding, and art knows this better than science does.
About the Author
---
JONAH LEHRER is the New York Times bestselling author of A Book About Love, How We Decide, and Proust Was a Neuroscientist. His writing has also appeared in Wired, The New Yorker, the Wall Street Journal, Nature, The New York Times Magazine, Scientific American, and Outside. Lehrer graduated from Columbia University and attended Oxford as a Rhodes Scholar.
Praise For…
---
"Jonah Lehrer provides a fresh and unique look at eight of the artists who define modern culture." --Billy Collins, former poet laureate

"In this book, Jonah Lehrer shows us brilliantly that the process of cooking is more than chemistry." --Jacques Pepin

"In this intriguing reflection . . . both art and science are freshly conceived." --Howard Gardner

"Lehrer puts current neuroscience to a fine use -- ancestor worship -- and in the process gives us a delightful, thoughtful read." --Antonio Damasio, author of Descartes' Error

"Brilliantly illustrated . . . amazing . . . [Jonah Lehrer's] clear and vivid writing--incisive and thoughtful, yet sensitive and modest--is a special pleasure." --Oliver Sacks

"Writing with effortless brilliance and astonishing clarity, Jonah Lehrer gives us . . . a beautiful book: I was enthralled by it." --Robert D. Richardson, author of William James (winner of the Bancroft Prize) and Emerson

"Jonah Lehrer in Proust was a Neuroscientist, brilliantly, playfully, and precociously shows how artistic perception often anticipates scientific discovery." --Michael Collier

"This is a delightful little book . . . fun to read and thought provoking." --Joseph LeDoux, New York University, author of The Emotional Brain and Synaptic Self

"Comes close to exemplifying . . . a unified "third culture" in which science and literature can co-exist as peaceful, complementary equals." Publishers Weekly

"Pleasingly fluent . . . [introduces] art to scientists and science to artists. Solid science journalism with an essayist's flair." Kirkus Reviews

"Entertaining and enlightening." New York Magazine

"Precocious and engaging . . . Lehrer is smart, and there are some fun moments in these pages." --D. T. Max The New York Times Book Review

"His book marks the arrival of an important new thinker . . . wise and fresh." --Jesse Cohen The Los Angeles Times

"Lehrer writes skillfully and coherently about both art and science." --Gregory Kirschling Entertainment Weekly —