Organic Chemistry, Volume Two: Part III: Aromatic Compounds Part IV: Heterocyclic Compounds Part V: Organophosphorus and Organometallic Compoundsvolu (Dover Books on Chemistry #2) (Paperback)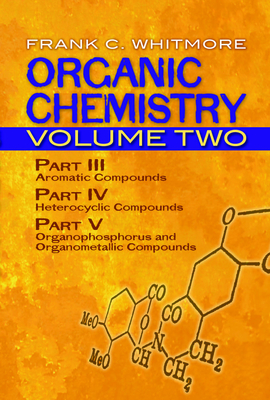 $24.95

Usually Ships in 1-5 Days
Other Books in Series
This is book number 2 in the Dover Books on Chemistry series.
Description
---
A rich source of chemical facts, theories, and processes, this two-volume series treats the entire subject of organic chemistry. It has served for decades as a reference for chemists in industry and education as well as a classroom text for students with a year or more of experience in organic chemistry.
Volume Two treats the properties of aromatic compounds: benzene, halogens, phenols, alcohols, carboxylic acids, and similar substances. It discusses alkaloids and other types of heterocyclic compounds and concludes with several chapters on organophosphorus and organometallic compounds. Methods of synthetic preparation receive a critical analysis, and many biochemical compounds are described.
About the Author
---
Frank Clifford Whitmore (1887-1947) was a prominent chemist, author, teacher, researcher, scholar, and dean. He was active in military research during World War II. This multi-part volume was the first English-language textbook in advanced organic chemistry.