Free to Learn: Why Unleashing the Instinct to Play Will Make Our Children Happier, More Self-Reliant, and Better Students for Life (Paperback)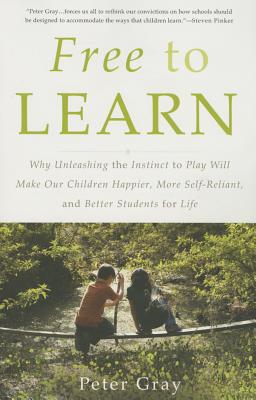 $19.99

Usually Ships in 1-5 Days
Description
---
A leading expert in childhood development makes the case for why self-directed learning -- "unschooling" -- is the best way to get kids to learn.

In Free to Learn, developmental psychologist Peter Gray argues that in order to foster children who will thrive in today's constantly changing world, we must entrust them to steer their own learning and development. Drawing on evidence from anthropology, psychology, and history, he demonstrates that free play is the primary means by which children learn to control their lives, solve problems, get along with peers, and become emotionally resilient. A brave, counterintuitive proposal for freeing our children from the shackles of the curiosity-killing institution we call school, Free to Learn suggests that it's time to stop asking what's wrong with our children, and start asking what's wrong with the system. It shows how we can act—both as parents and as members of society—to improve children's lives and to promote their happiness and learning.
About the Author
---
Peter Gray is a research professor in the Department of Psychology at Boston College. The author of Psychology, a highly regarded college textbook, he writes a popular blog called Freedom to Learn for Psychology Today. He lives in Shrewsbury, Massachusetts.
Praise For…
---
David Sloan Wilson, SUNY Distinguished Professor of Biology and Anthropology, Binghamton University, and author of Evolution for Everyone
"The modern educational system is like a wish made in a folk tale gone horribly wrong. Peter Gray's Free to Learn leads us out of the maze of unforeseen consequences to a more natural way of letting children educate themselves. Gray's message might seem too good to be true, but it rests upon a strong scientific foundation. Free to Learn can have an immediate impact on the children in your life."

Roberta Michnick Golinkoff, author of Einstein Never Used Flash Cards and A Mandate for Playful Learning in Preschool
"A compelling and most enjoyable read. Gray illustrates how removing play from childhood, in combination with increasing the pressures of modern-day schooling, paradoxically reduces the very skills we want our children to learn. The decline of play is serious business."

Steven Pinker, Harvard College Professor of Psychology, Harvard University, and author of How the Mind Works
"Peter Gray is one of the world's experts on the evolution of childhood play, and applies his encyclopedic knowledge of psychology, and his humane voice, to the pressing issue of educational reform. Though I am not sure I agree with all of his recommendations, he forces us all to rethink our convictions on how schools should be designed to accommodate the ways that children learn."

Lenore Skenazy, author of Free-Range Kids
"All kids love learning. Most don't love school. That's a disconnect we've avoided discussing—until this lightning bolt of a book. If you've ever wondered why your curious kid is turning into a sullen slug at school, Peter Gray's Free to Learn has the answer. He also has the antidote."

Laurette Lynn, Unplugged Mom.com
"[A] well written, well organized and beautifully stated piece of work….I emphatically recommend this book for any parent as well as any educator or anyone interested in improving education for our society."

Mothering.com
"[Free to Learn is] a powerful agent of transformation. I'd like to put a copy in the hands of every parent, teacher, and policy maker."

Publishers Weekly
"[E]nergetic…Gray powerfully argues that schools inhibit learning…. [Gray's] vivid illustrations of the 'power of play' to shape an individual are bound to provoke a renewed conversation about turning the tide in an educational system that fosters conformity and inhibits creative thinking."

Frank Forencich, author of Exuberant Animal and Change Your Body, Change the World
"Free to Learn is a courageous and profoundly important book. Peter Gray joins the likes of Richard Louv and Alfie Kohn in speaking out for a more humane, compassionate and effective approach to education."