The Journey Home: Some Words in the Defense of the American West (Paperback)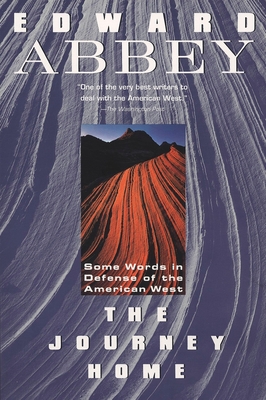 $18.00
Title is Backordered
Description
---
The Journey Home ranges from the surreal cityscapes of Hoboken and Manhattan to the solitary splendor of the deserts and mountains of the Southwest. It is alive with ranchers, dam builders, kissing bugs, and mountain lions. In a voice edged with chagrin, Edward Abbey offers a portrait of the American West that we'll not soon forget, offering us the observations of a man who left the urban world behind to think about the natural world and the myths buried therein.
 
Abbey, our foremost "ecological philosopher," has a voice like no other. He can be wildly funny, ferociously acerbic, and unexpectedly moving as he ardently champions our natural wilderness and castigates those who would ravish it for the perverse pleasure of profit.
About the Author
---
Edward Abbey, a self-proclaimed "agrarian anarchist," was hailed as the "Thoreau of the American West." Known nationally as a champion of the individual and one of this country's foremost defenders of the natural environment, he was the author of twenty books, both fiction and nonfiction, including Desert Solitaire, The Monkey Wrench Gang, and The Journey Home. In 1989, at the age of sixty-two, Edward Abbey died in Oracle, Arizona.
Praise For…
---
"Abbey's unique prose voice… is the voice of a full-blooded man airing his passions… alternately misanthropic and sentimental, enraged and hilarious."—People
 
"The man, quite simply, is a master."—The Bloomsbury Review
 
"A record as important and lovely as Muir's or Thoreau's."—New York Post
 
"One of our foremost Western essayists and novelists. A militant conservationist, he has attracted a large following—not only within the ranks of Sierra Club enthusiasts and backpackers, but also among armchair appreciators of good writing. What always made his work doubly interesting is the sense of a true maverick spirit at large—a kind of spirit not imitable, limited only to the highest class of literary outlaws."—The Denver Post
 
"Abbey is a gadfly with a stinger like a scorpion."—Wallace Stegner
 
"In his own inimitable fashion, Abbey prevails among the scant handful of our best and brightest fresh-air scribes."—Chicago Sun-Times