The Book of Extraordinary Deaths: True Accounts of Ill-Fated Lives (Hardcover)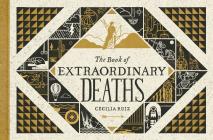 $17.00
Title is Backordered
Description
---
A welcome dose of dark humor for these dark times, from acclaimed illustrator Cecilia Ruiz

The Book of Extraordinary Deaths introduces readers to the bizarre demises of thinkers, writers, monarchs, artists, and notable nobodies throughout history. Beginning in the seventh century BC with the unusual death of Draco and journeying chronologically to the present day, Ruiz's playfully sinister giftbook illustrates and describes the infamous deaths of these unfortunate souls. From stories of the hot-air balloon duel that claimed a Frenchman's life to the fatal wardrobe malfunction of famed dancer Isadora Duncan, The Book of Extraordinary Deaths is a uniquely clever and gorgeously rendered meditation on life's ironies and mysteries. With Ruiz's witty descriptions and rich, captivating illustrations, her characters come to life on the page even as they shuffle off this mortal coil.
About the Author
---
Cecilia Ruiz is a Mexican writer, illustrator, and graphic designer living in Brooklyn. She is the author of The Book of Memory Gaps, and holds a MFA in illustration from the School of Visual Arts in New York City.
Praise For…
---
Praise for The Book of Extraordinary Deaths:

"Cecilia Ruiz brings her stylish illustration style and singular aesthetic to The Book of Extraordinary Deaths. This book spans centuries and explores a host of unique and unsettling exits from this mortal coil—making it an unpredictable look at some memorable corners of history."
—Tobias Carroll, Read it Forward

"Illustrator Cecilia Ruiz navigates readers through a graveyard of bizarrely ironic and often darkly humorous demises in The Book of Extraordinary Deaths… [with] illustrations that would make Edward Gorey and Charles Addams proud… Mystery and crime readers are sure to enjoy this engrossing and morbidly entertaining collection. Those who revel in quirky trivia will also find this assemblage of outrageous epitaphs a real scream."
—Shelf Awareness

"Ruiz's sinister selections and quirky technique add up to a delightfully morbid foray into history."
—Publishers Weekly

"This slender, magnificent book is about the central tragedy of human existence, the dreadful final reckoning to which all flesh is heir. It's an absolute hoot."
—Gene Weingarten, Pulitzer Prize-winning journalist and columnist


Praise for Cecilia Ruiz's The Book of Memory Gaps:

"Cecilia Ruiz offers a darkly humorous but warmhearted account of various memory errors and disorders….The illustrations—lovely and quirky—manage to both depict a snapshot in time while also conveying memory's ephemeral, transient nature."—Bruce Poulsen Ph.D., PsychologyToday.com

"Read[s] like Edward Gorey's The Gashlycrumb Tinies if it were written by Dr. Oliver Sacks….a quaint, beautifully designed little book with wonderful art."—MentalFloss.com