Townie: A Memoir (Hardcover)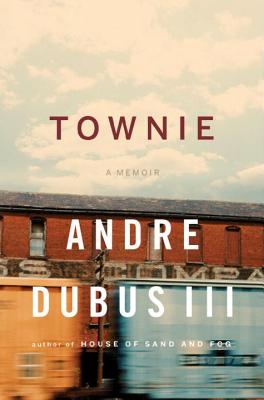 $25.95
Title is Backordered
March 2011 Indie Next List
---
"This is an intensely courageous portrait of growing up after Dubus' renowned writer father leaves his mother, him, and his three siblings to confront the desolate, broken-down world of the mill towns of Massachusetts while he, in turn, teaches in nearby elitist colleges. Dubus bravely bares the veins of violence, fear, survival and love with a tender toughness, a linguistic grace, and an utter absence of rancor that places him among the most effective American memoirists writing today."
— Margot Liddell, Norwich Bookstore, Norwich, VT
Description
---
Won Book of the Year Adult Non-Fiction—2012 Indie Choice Awards

Amazon Best Book of the Month February 2011



An acclaimed novelist reflects on his violent past and a lifestyle that threatened to destroy him—until he was saved by writing.
After their parents divorced in the 1970s, Andre Dubus III and his three siblings grew up with their exhausted working mother in a depressed Massachusetts mill town saturated with drugs and everyday violence. To protect himself and those he loved, Andre started pumping iron and learned to use his fists so well that he became the kind of man who could send others to the hospital with one punch, and did. Irresistibly drawn to stand up for the underdog, he was on a fast track to getting killed—or killing someone else.
Nearby, his father, an eminent author, taught on a college campus and took the kids out on Sundays. The clash of worlds between town and gown, between the hard drinking, drugging, and fighting of "townies" and the ambitions of well-fed students debating books and ideas, couldn't have been more stark or more difficult for a son to communicate to a father. Only by finally putting pen to paper himself did young Andre come into his own, discovering the power of empathy in channeling the stories of others—and ultimately bridging the rift between his father and himself.
An unforgettable book,
Townie
is a riveting and profound meditation on physical violence and the failures and triumphs of love.
About the Author
---
Andre Dubus III is the author of Such Kindness and 8 other books, including the bestsellers Townie, a memoir, and House of Sand and Fog, a National Book Award Finalist in Fiction and an Oprah's Book Club selection. He lives in Newburyport, Massachusetts.
Praise For…
---
You have to buy Townie.

— The Chronicle of Higher Education

Starred Review. Dubus chronicles each traumatic incident and realization in stabbing detail. So chiseled are his dramatic memories, his shocking yet redemptive memoir of self-transformation feels like testimony under oath as well as hard-hammered therapy, coalescing, ultimately, in a generous, penetrating, and cathartic dissection of misery and fury, creativity and forgiveness, responsibility and compassion.
— Booklist

Starred Review. His compassionate memoir abounds with exquisitely rendered scenes of fighting, cheating, drugging, drinking and loving. A striking, eloquent account of growing up poor and of the making of a writer.
— Kirkus Reviews

[A] harrowing and strange and beautiful book....an important moment in the growing body of Dubus's work. 
— Boston Globe

In his memoir Townie, Andre Dubus III bravely claims all of the shadows he grew up under—his famous writer father, his parents' divorce, his newly single mother's impoverishment, the rough streets of the many working-class New England towns he called home. Fighting saved him for a while; then he put down his fists and picked up a pen. Lucky him, lucky us.

— Elle

[Dubus] is such a solid writer, he redeems the genre. He shows that truth can be as honest as fiction.
— Seattle Times

His ability to describe violence might be unmatched among contemporary writers. He understands the arcane, unspoken vocabulary of how fights start, as well as the bone-crushing details of how they end. But Townie is most memorable for how vulnerable Dubus seems, once he has stripped himself down to the soul for his readers.

— Richmond Times-Dispatch

Dubus writes compellingly of those trying times. Townie is a poignant coming-of-age story told by a man whose raw determination allowed him to endure a boyhood ruled by violence and emerge talented enough to write about it with brutal honesty.

— Miami Herald

Townie has all the rich texture, lucid characterization, compelling conflicts and narrative momentum of the best fiction. It renders heartbreaking, violent, tender and sometimes absurdly comic scenes without a trace of narcissism or sentimentality. From first sentence to last, Dubus employs a dispassionate yet urgent voice. It allows him to do justice to his past and to the people who populated it.

— Cleveland Plain-Dealer

Fans of Dubus's fiction will thrill to reading his muscular, occasionally lyrical prose rendering his own life.
— Smith Magazine

In this powerful memoir, Andre Dubus III explores the complicated and intense relationships between siblings, mothers and sons, and fathers and sons. Growing up in hardscrabble old mill towns, Dubus learned to fight and survive and ultimately to find his own glorious voice … as Dubus finds his redemptive place in the world at last.
— Ann Hood, author of The Red Thread

Whatever it cost Dubus to bare his soul and write this brutally honest and life-affirming memoir, it is an extraordinary gift to his readers.
— Wally Lamb, author of The Hour I First Believed