Colored Pencil Painting Portraits: Master a Revolutionary Method for Rendering Depth and Imitating Life (Paperback)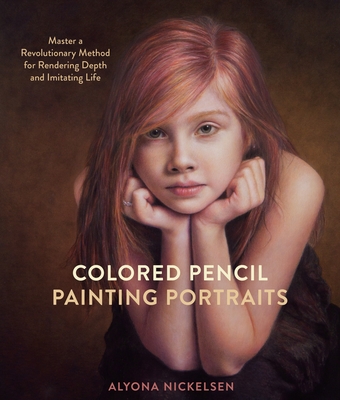 $25.99
Title is Backordered
Description
---
Colored pencil painter Alyona Nickelsen reveals how to use the medium to push the limits of realistic portraiture.
Colored Pencil Painting Portraits provides straightforward solutions to the problems that artists face in creating lifelike images, and will prime readers on the intricacies of color, texture, shadow, and light as they interplay with the human form. In this truly comprehensive guide packed with step-by-step demonstrations, Nickelsen considers working from photo references versus live models; provides guidance on posing and lighting, as well as planning and composing a work; discusses tools, materials, and revolutionary layering techniques; and offers lessons on capturing gesture and expression and on rendering facial and body features of people of all age groups and skin tones.
About the Author
---
ALYONA NICKELSEN is a contributing writer for Colored Pencil magazine and the author of Colored Pencil Painting Bible. Her work has been featured in numerous publications, including American Artist, The Artist's Magazine, and American Art Collector. Nickelsen's paintings have been exhibited and won awards in prestigious national and international juried shows, such as Salmagundi Club, the American Artist Professional League, Audubon Artists, and the Colored Pencil Society of America. She is the creator and instructor of the Colored Pencil Painting Learning Center hosted on her website, www.brushandpencil.com.
Praise For…
---
"Get ready for a revolutionary way to use colored pencils!"
—Sally Robertson, editor in chief of Colored Pencil Magazine

"This is a must have book for all colored pencil artists--not just those interested in portraiture but those looking to really understand and master the art of colored pencils."
—Ivor Harrison, The Art Gear Guide

"Colored Pencil Painting Portraits is a wealth of information and instruction, and it is a joy to watch how Alyona brings her rich, beautiful portraits to life."
—Australia Colored Pencil Association